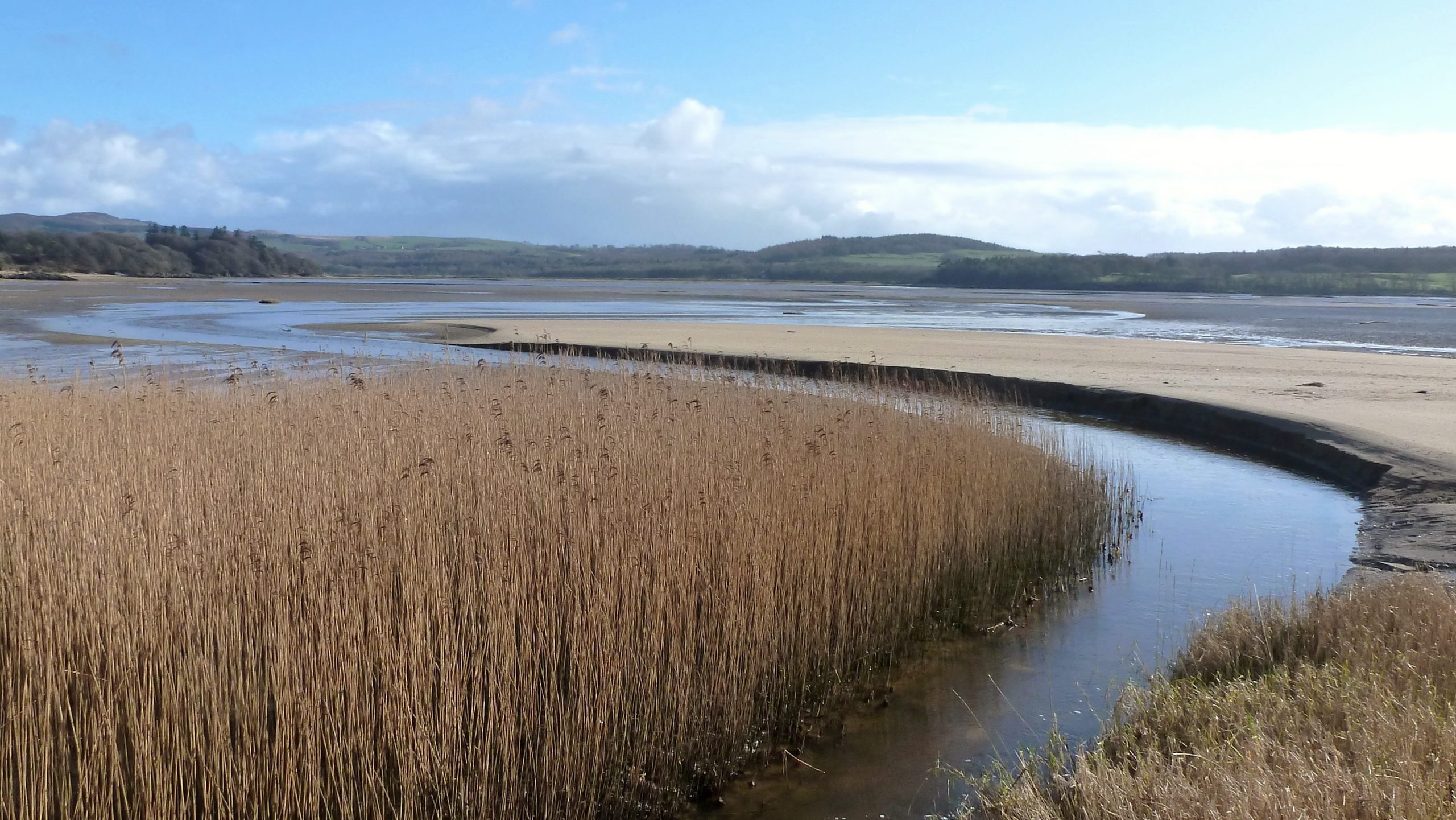 Diverse Habitats
The habitats found within the Biosphere are vast and varied. From mountain peaks to coastal cliffs, there is much to be seen and much that is worth protecting. In the face of the climate and biodiversity crises, the GSA Biosphere has developed a Natural Heritage Management Plan to describe key actions to enhance our species and habitats. Below is just an overview of what there is to discover within Galloway and Southern Ayrshire.
Uplands & Mountains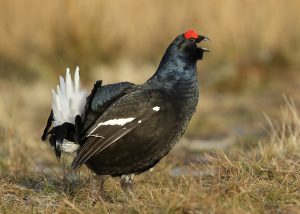 The uplands of the Biosphere offer awe-inspiring landscapes, textbook glacial landscape features and large swathes of heather moorland. You will see heather, blaeberry, bog myrtle and sphagnum mosses, all of which provide refuge for insects, hunting ground for birds and nesting places for wildlife. Home to some of the remaining black grouse of this region, the importance of our moorlands cannot be understated – not only are they beautiful places which have inspired the likes of Robert Burns, but they play a key role in regulating our water, locking away carbon and providing places for golden eagles to nest.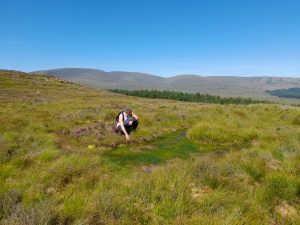 We want to encourage people to visit the uplands safely and with wildlife in mind, and the perfect opportunity can be found at Cairnsmore of Fleet NNR Visitor Centre – at the heart of the Biosphere. There you will find trails for families and for those looking past the beaten track.  Keep your eyes peeled to discover wonderous wildlife like the golden-ringed dragonfly, the Scotch argus butterfly, whinchats, wheatears, and many more. The Big Water of Fleet Viaduct offers an insight into days gone by when the trainline ran from Stranraer to Dumfries and beyond. It carried people and transported vital goods between the ferry and the towns, driving the local economy.   
If you like a challenge, you could hike the Merrick – the region's tallest mountain at 845m. You'll climb up past burns and moors, through forest, rare alpine scrub and finally reach the summit to look out over the Biosphere from its highest point. This area has been historically cleared of trees and grazed by shepherds for hundreds of years so much of what you see is not as wild as you may first think – but is still home to birds, insects and amphibians. Ravens can be heard overhead as you climb through the hills, golden eagles are infrequent but occasional visitors to the area and you may even be lucky enough to come across the mysterious Grey Man of Merrick. You could also consider walking the Southern Upland Way – a long distance trail that will take you from coast to mountains and everything in between.    
Lowlands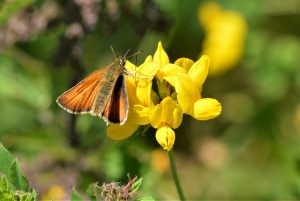 The lowlands of the Biosphere form an interconnected mosaic of habitats such as farmland, marshes, meadows, and some of our largest urban areas. This diversity in landscapes provides the ideal catalyst for biodiversity to thrive. Home to barn owls, skipper butterflies, orchids, geese, and yellowhammer,  these areas provide us with fertile lands to grow food, with flat ground to build our homes and space for accessible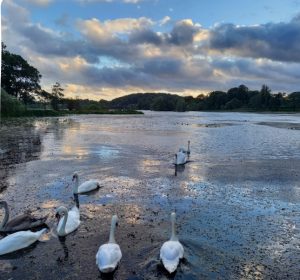 recreation.  It is within these areas that most of us live, where the greatest battles were fought, and the greatest innovations discovered. Kirkpatrick Macmillan, the inventor of the bicycle, and James Clerk Maxwell, the mathematician who correctly theorized light was electromagnetic radiation, both drew inspiration from the lowlands around their homes at Keir Mill and Glenlair.  
If you are looking for wildflowers, a visit to Auchalton Meadow (SSSI) located 2.5km south of Crosshill, is a lowland neutral grassland with much botanical interest. Formerly a lime works and one of the best examples of a dry grassland in the region, it is home to several rare plants including field gentian, frog orchid and early marsh orchid. Good numbers of yellowhammer and small heath butterflies can also be found here.  
Threave Garden and Estate near Castle Douglas is a wildlife refuge and Scotland's only bat reserve. Home to eight different species of bat, the National Trust for Scotland team at Threave Estate is enhancing wildlife through a process of re-naturalising a previously farmed landscape with its surroundings. Brilliant for birdwatching, the site at Kelton Mains provides wide footpaths, bird hides and views to the surrounding hills – definitely worth a visit. In Castle Douglas nearby, Carlingwark Loch (pictured right) offers a circular walk where you can see internationally important habitats for wintering greylag geese and other breeding birds. The board walk takes you over a fen meadow where you will hear grasshopper warblers in the spring and see an abundance of aquatic plants.  
Woodland
The Biosphere is home to some of Scotland's best remaining ancient woodland sites, as well as being nationally important for commercial forestry. Woodlands have often been at the heart of our history, inspiring poets like Rabbie Burns and providing refuge to the Covenanters during times of persecution.  They are home to quintessential species like red squirrels, speckled wood butterflies, bluebells and chanterelle mushrooms. If you are lucky, you may spot local rarities including pine marten, goshawk and wild boar. Not only do woodlands provide a fantastic range of habitats for wildlife but they also play a key role in providing local jobs, raw materials, carbon sequestration, wild foods and climate resilience.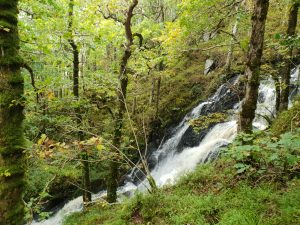 We encourage people to explore our woodlands responsibly and one of the best ancient woodlands in Scotland can be found locally at the Wood of Cree (Pulhowan Burn waterfall is pictured left). Here you can truly immerse yourself in the winding trails. Listen for the symphony of the woods sung by the redstarts, wood warblers, pied flycatchers and willow tits seldom heard elsewhere. In autumn, a bounty of mushrooms and toadstools grow in troves under the canopy and the mixture of orange hues in the leaves make a stunning backdrop. This location is ideal to see conservation efforts in action, as the RSPB are remove invasive conifers, plant native hardwoods and facilitate natural regeneration by thinning, ensuring the woods' survival into the future.  
Ravenshall Wood (SSSI), southeast of Creetown, is one of the best examples of maritime-influenced broadleaf woodland in the region. This semi-ancient broadleaf woodland is composed of oak, ash and wych elm which have been warped and stunted by the unrelenting costal winds. It is among the best sites in the country to find lichens – 130 species have been recorded including 10 nationally scarce species and the rainforest specialist, tree lungwort. The site is rich in invertebrates namely 113 species of beetle, Scotch argus butterflies and a rare species of cave woodlouse called Trichoniscoides saeroeensis. Botanical curiosities include the very rare holy-grass and seaside centaury, lax-flowered lavender and dotted sedge.  Be advised that no facilities are available at this site.   
Water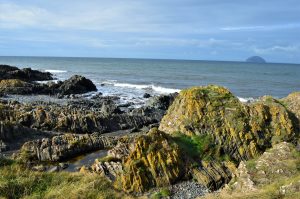 From the sea to the hills, the Biosphere is full of water. Our coast is extensive and rugged, and is the perfect place to walk, relax, go wildlife-spotting, or encounter some of Scotland's most fascinating geology, such as the Ordovician rock at Ardwell Bay, pictured right. Take binoculars and a pair of boots and get exploring! The Biosphere's coastline is home to wintering birds like curlew, golden plover and oystercatchers. Brent geese, barnacle geese, Greenland white-fronted geese, and greylags are known to make their winter home along the coast in this region, after travelling over 2700km on their migratory route from Svalbard in the Arctic circle. This epic journey has inspired the annual Wild Goose Festival, which takes place in the final week of October. One of the best coastal sites to visit if you get the chance is the Crook of Baldoon – an RSPB saltmarsh which bursts with colour in spring and sings with the beat of thousands of golden plover wings in autumn.  
Further inland lochs and lochans shine in the landscape, formed by glaciers carving through the mountains thousands of years ago. Rivers and burns thread through the glens, some lined with ancient woodlands and others open and exposed. Our freshwater systems are home to salmon, brown trout, water voles, otters and more – although you're more likely to see brightly coloured dragonflies darting around above the waters surface and dippers bobbing around the edges. If you want to see some of the Biosphere's best lochs and burns, consider a trip to Loch Trool which has a 10km circular walk through woods and alongside the loch. If you're feeling more adventurous take a map and compass to walk the 5 lochs loop from Bruce's Stone, taking in Loch Trool, Loch Valley, Loch Neldricken, Loch Arthur and finally Loch Enoch, before heading back via the Grey Man of Merrick. Be warned, it is steep, wet and uneven under foot – but you'll be rewarded by stunning views.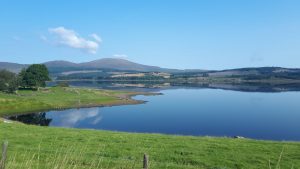 Clatteringshaws Loch (pictured left) in the Galloway Forest Park is also worth visiting. A reservoir with a café and short walk to see Bruce's stone, Clatteringshaws offers beautiful scenery, plenty of benches and brilliant dark skies. It is suitable for a visit at all times of the year and offers a gateway to the hills behind.  
The water within the region is a key resource for people and wildlife and must be protected. Our partners at SEPA and the Galloway Fisheries Trust are working hard to monitor water quality, enhance our water environments and protect the habitats that surround them.