Back to blog
GSAB welcomes delegation from Sweden's UNESCO Biospheres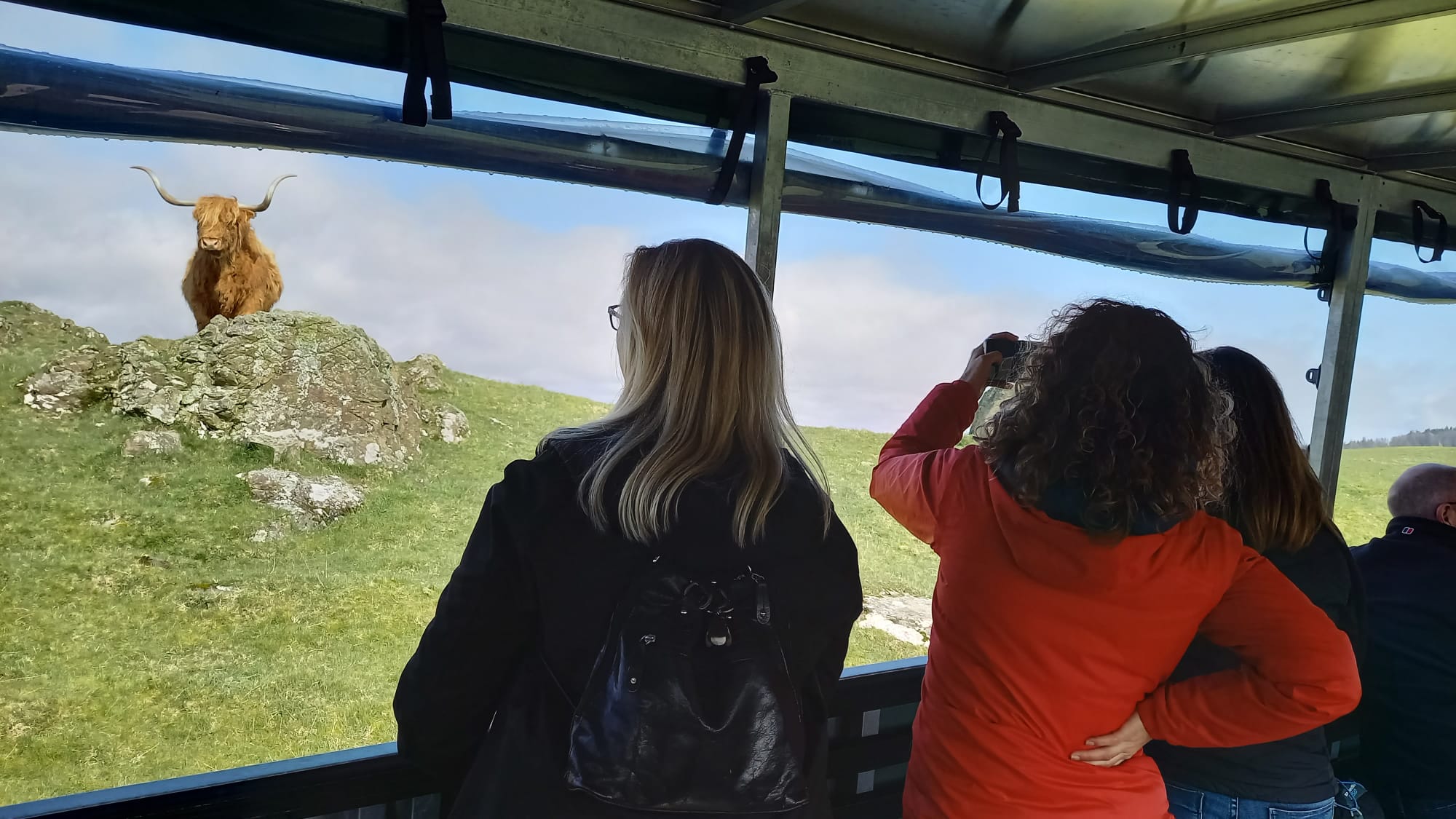 The Galloway & Southern Ayrshire Biosphere's Director and staff have welcomed representatives from Sweden's 7 UNESCO Biosphere Reserves in April and we're privileged to share here just a brief summary of this international exchange.
GSAB is one of a network of 738 UNESCO Biospheres around the world and part of our shared remit is to use this as a mechanism for global knowledge-sharing. Such activity reinforces UNESCO Biospheres' role as test beds for research and innovation across our main areas of focus: conservation, education, sustainable development, and climate action. Each of Sweden's Biospheres share different attributes with southwest Scotland: varied landscapes including uplands, rivers and important RAMSAR wetlands; agriculture and forestry as key industries; a strong nature-based tourism offering; even midges! (yes really – one of the Swedish Biospheres has led years of pioneering research into mitigating mosquitos). Meaning: there was much to discuss!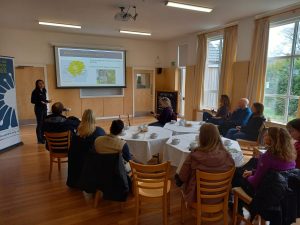 Our officers put together a two-day programme that would introduce Swedish colleagues to just a few of the key locations around GSAB's 5,200km², and to the local people who work in partnership with our organisation either as community interest groups, outdoor activity providers, or through the Biosphere Certification Mark scheme for business. No easy task, due to the embarrassment of riches that is Galloway and Southern Ayrshire! Our guests were staying in the historic town of Newton Stewart and from there the tour began by coach, heading over to Glentrool to meet our Community & Education team at the Glentrool Hive, a Biosphere-certified local hub that also offers eco-friendly visitor accommodation. We were privileged to have the Hive's manager Billie and Sue from the Glentrool & Bargrennan Community Trust join us for a discussion that covered Biosphere Footsteps, Learning for Sustainability, and of course our Biosphere Communities scheme; Glentrool was the first to join this initiative, which has since expanded to eight villages across three local authority areas.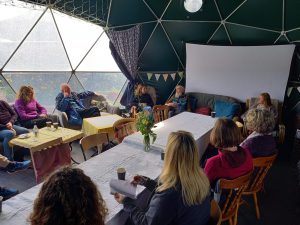 From Glentrool the coach headed up into South Ayrshire, which was also an opportunity to enjoy looking out over the landscapes of GSAB's western side as we headed to Girvan Community Garden, an ideal place to chat with Chris Campbell from the community garden and Chris Saunders from Adventure Carrick about social enterprise and the value of the UNESCO Biosphere designation to sustainable development in GSAB's larger localities like Girvan. Afterwards it was down to the promenade to meet Ann Berry at Biosphere Bikes. Both Adventure Carrick and Biosphere Bikes have been awarded the Biosphere Certification Mark and their work is strongly focused on accessibility in outdoor leisure. Down at Girvan's beautiful seafront our guests were able to try out some of Ann's cycles and buggies which are designed to make cycling an inclusive activity regardless of age or physical ability.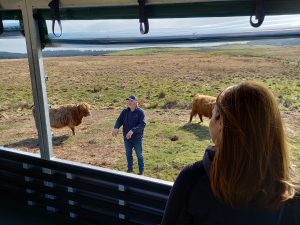 Our group's final stop on Day 1 was Kitchen Coos and Ewes. The tour offered by Neale and Janet at this amazing attraction is coos, ewes and so much more, as every visitor gets to hear about southwest Scotland's rural heritage and how deeply connected our farming communities are with land, wildlife, and the ever-evolving systems that provide our fuel, fibre and food. Kitchen Coos has to be one of the finest photo opportunities in the Biosphere – we don't think any of the herd has a bad angle! It is proven time and time again that visitors (and residents of course) better understand people and place through immersive experience: seeing things up close, hearing first-hand about Biosphere life, and in the case of Airyolland Farm – being right out there, on the hills.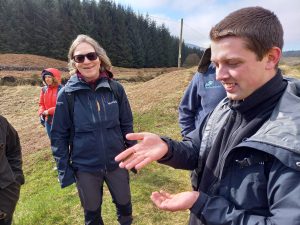 A visit to one of GSAB's Core Areas was a must – these sites of high conservation value and unique 'sense of place' are an essential part of our UNESCO designation, and without them we wouldn't be a Biosphere at all. On Day 2 we took the group to Cairnsmore of Fleet NNR where they met Sara, GSAB's Land Use & Biodiversity lead, and our Project Support Officers Jake and Malcolm. Perfectly timed to see the nature reserve coming to life with spring flora and fauna; this drinker moth caterpillar was one of the stars of the tour! We heard from NatureScot's Suzanne about Cairnsmore of Fleet's status as a protected area, and how management of the reserve aims to find a balance between facilitating public access and education while safeguarding delicate ecosystems and threatened species.
The Biosphere Community of Gatehouse of Fleet was our next stop to meet Dr David Steel from the Gatehouse Development Initiative and talk about heritage, culture, and building community-led projects for climate and nature resilience. We had lunch and a tour at the Mill on the Fleet, an event/exhibition space and visitor information point (and gallery, bookshop, and more) which occupies a restored 18th century cotton mill – just one example of how historic industries have shaped the towns and villages we live in today. Gatehouse is one of the locations where GSAB's new interpretation panels have been installed (stop for a look next time you're at the main car park, or heading into Garries Park); one of the themes of Biosphere signage is encouraging people to explore and make new discoveries. Among other things the Gatehouse panel highlights nearby Cairnholy and Carsluith Castle, Carstramon Wood and Laghead – and Route 7 on the National Cycle Network for a sustainable way to explore.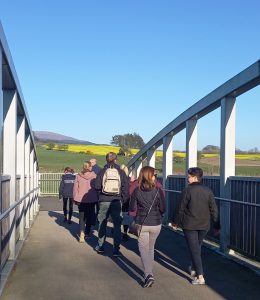 Back in Newton Stewart we'd booked some space in the Crown Hotel for a sit-down discussion about the similarities and differences between our Biospheres, successes and challenges, and where our priorities currently lie. In particular we talked about communications: how do we help people find out more about the title 'UNESCO Biosphere' and what it might mean to them? One of our constant priorities is to help local people feel ownership of the Galloway and Southern Ayrshire Biosphere; a sense of pride in where they live, appreciation for its special attributes, and the sense that it is theirs (yours!) to enjoy. And as always, we welcome both feedback and input regarding our programme of activity and public engagement. All members of our team are reachable via info@gsabiosphere.org.uk.
Sweden and Scotland have a lot to learn from each other and we are still digesting and reflecting on our learning journey. Some words from Johanna MacTaggart, National Coordinator of the Swedish MAB Programme:
"Our visit to G&SA Biosphere was very inspiring. The meetings with Biosphere entrepreneurs and communities gave me good insight in how the Biosphere interacts with local stakeholders as well as the role of the Biosphere and its contribution to local sustainable development. There are strong similarities to the work in Swedish Biospheres but also differences in approaches from which I see we can learn from each other. How we work with school programs, Biosphere ambassadors and stewardship for example. Since I came back home, I keep telling people about Biosphere Bikes. Such a great and including concept! It contributes nicely to the understanding of the UNESCO designation – Brilliant! I am looking forward to continued collaboration with G&SA Biosphere and hope you come to visit a Biosphere in Sweden soon."
If you would like to learn more about Sweden's UNESCO Biospheres – and perhaps plan a visit! – do take a look at their websites, listed below. For interest, we have included the year each was designated, for comparison to GSAB which was awarded its UNESCO status in 2012. Also for comparison, the UK also currently has 7 UNESCO Biospheres, two of which are in Scotland – GSAB and Wester Ross.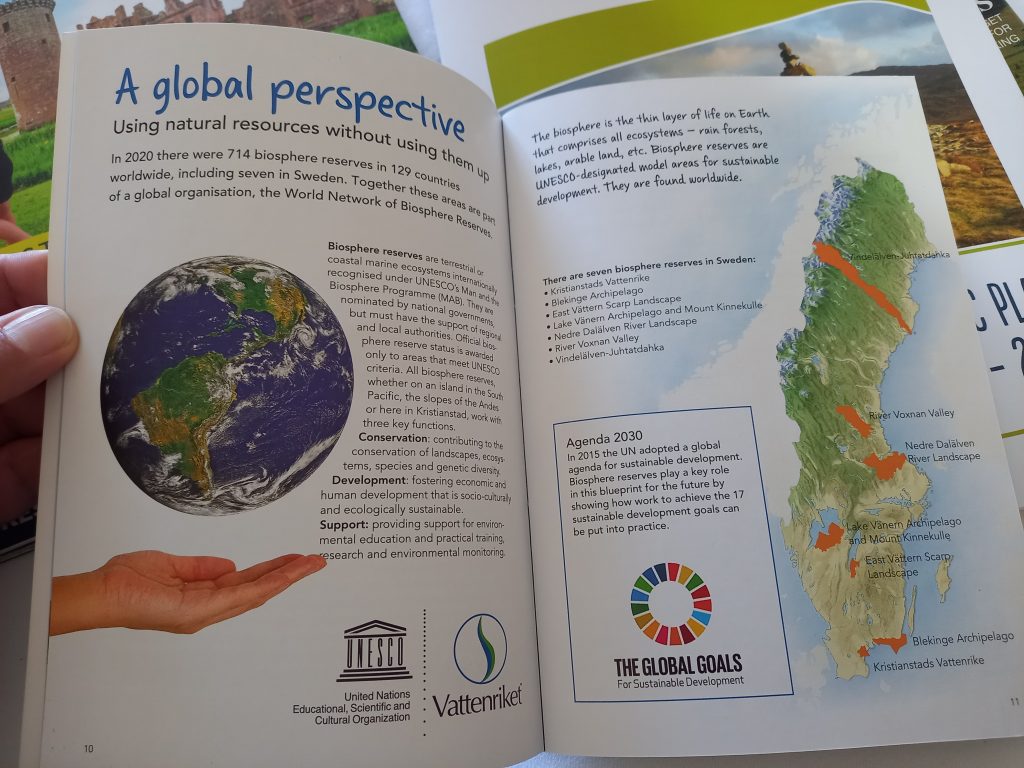 Kristianstad Vattenrike, 2005
Nedre Dalälven River Landscape, 2011
East Vättern Scarp landscape, 2012
Vindelälven-Juhttátahkka, 2019