Back to blog
GSA Biosphere welcomes two recruits to its permanent team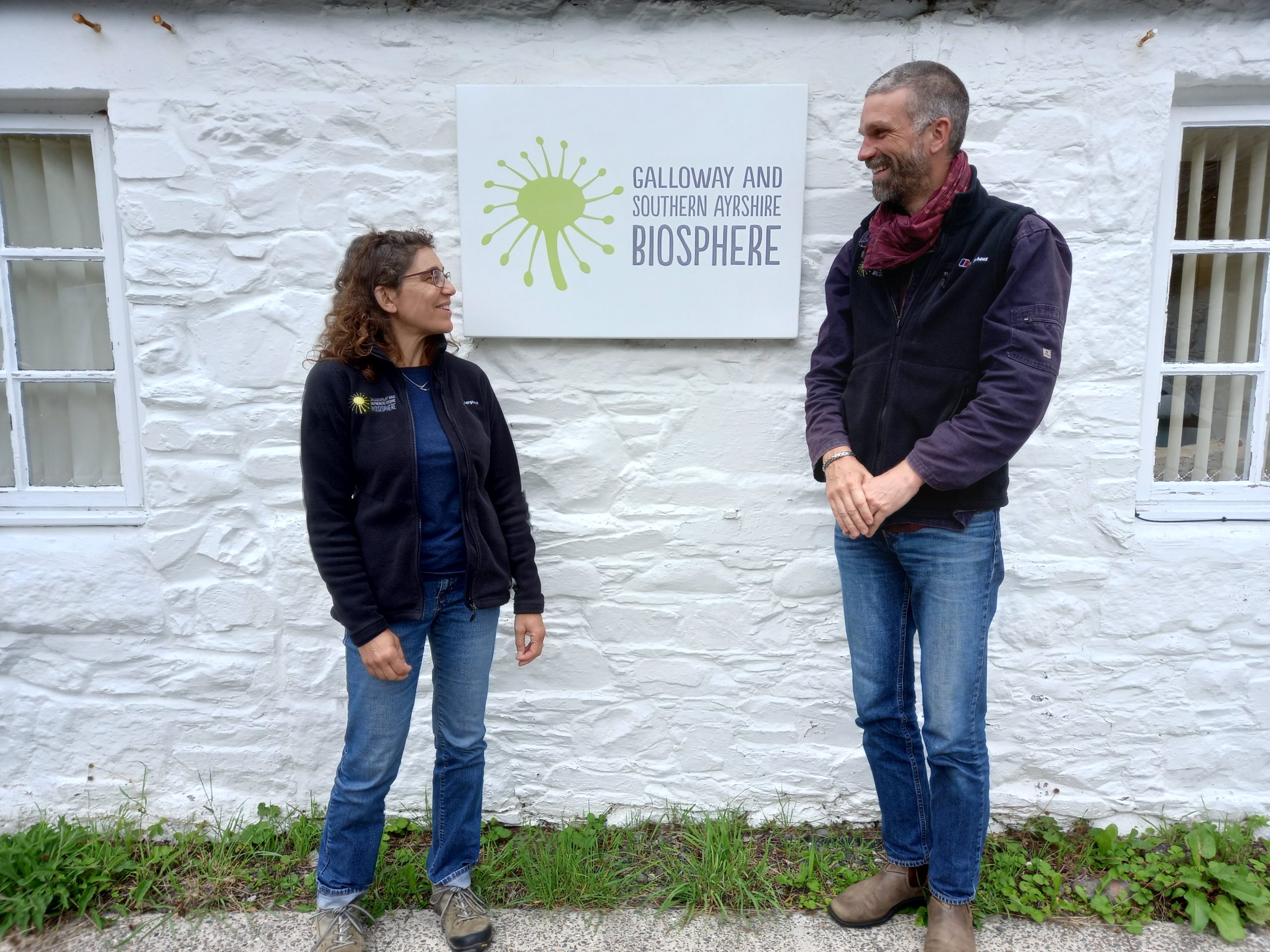 The Galloway & Southern Ayrshire UNESCO Biosphere has this week welcomed two members of staff to its permanent team. Antoine Lemaire, an established Biosphere Guide who hails from Belgium and Thornhill, is the Biosphere's new Nature Recovery Officer, and will be working alongside Land Use and Biodiversity lead Sara Press on local and landscape scale projects that support regenerative farming and nature restoration.  Meanwhile Jake McLaughlan, who held one of the Biosphere's two paid internship posts during 2022/3, was successful in interviewing for a permanent role in Business Development, and will continue to support the Biosphere's network of Proud Supporter and Certification Mark businesses, helping to onboard sustainable local enterprises that want to connect with the global UNESCO brand.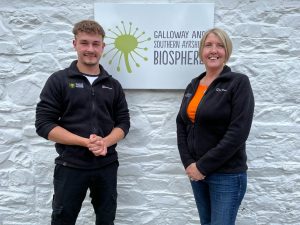 Commenting on his own experience so far with the GSA Biosphere, Jake McLaughlan (pictured left with Deputy Manager Marie McNulty), said, "My first year has been fantastic. It has been amazing to learn so much about this wonderful area and all the businesses and people that call the Biosphere home. I am looking forward to progressing and being able to meet even more wonderful people and assist them in whichever way I can."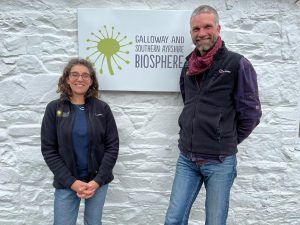 Commenting on his new position as Nature Recovery Officer, Antoine Lemaire (pictured right with Sara Press) said, "I am very excited to be working for the Galloway and Southern Ayrshire Biosphere, and am particularly looking forward to getting to engage and work with farmers and landowners to find ways towards sustainable land use. I also look forward to discovering new places in the UNESCO region and deepening my knowledge of landscape-scale nature recovery."
With a commitment to training, skills development, and creating local jobs whenever possible to do so, the Biosphere has been able to expand staffing and subsequently its programme of activity thanks to core funding from South of Scotland Enterprise and its three local authority partners, South Ayrshire Council, East Ayrshire Council, and Dumfries & Galloway Council.  This ongoing support has seen the organisation expand from just 1.5 FTE staff to a team of twelve in under three years.  With plans in development for an eco-office at St John's Town of Dalry, the team is looking towards a secure future and firm presence that is embedded in local communities.