Back to blog
Announcing Four New Awards of the Biosphere Certification Mark!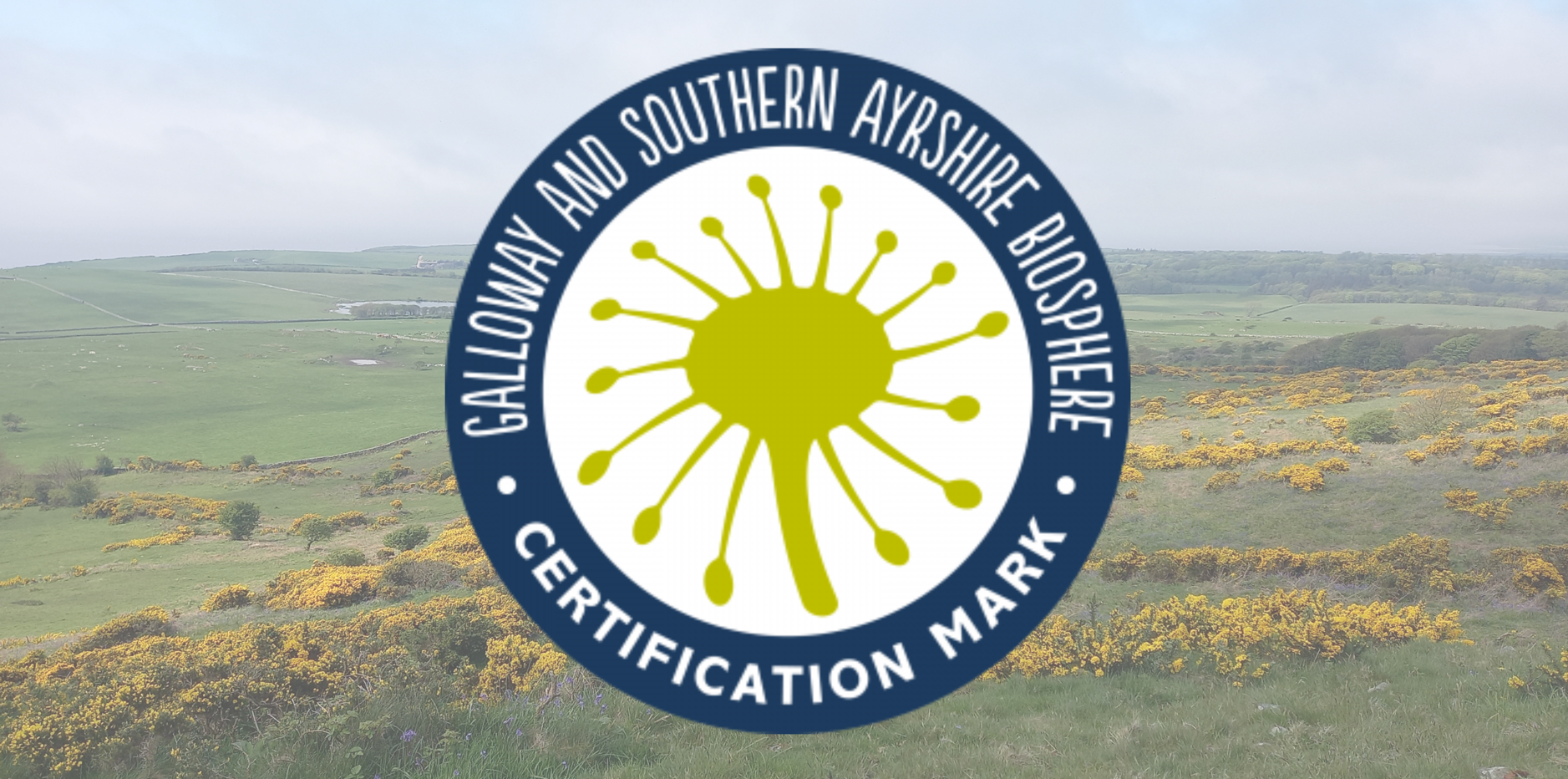 The Galloway & Southern Ayrshire Biosphere's trademarked accreditation for sustainable business has been awarded to four new recipients following August's assessment panel meeting.
Deer Manor Mushrooms is a Certified Organic mushroom farm at Polbae in Dumfries & Galloway. Lead grower Dr Alisha Fuller-Armer is proud to supply gourmet and medicinal mushrooms to restaurants, foodies, and families, and also sells through the Glenkens Food Hub. Alisha and the Deer Manor team were motivated to apply for the Biosphere Certification Mark by their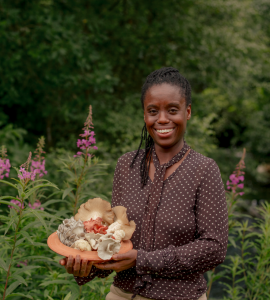 commitment to adding to the rich tradition of farming and innovation in the Biosphere and a desire to widen accessibility to high quality, nourishing food. Deer Manor Mushrooms launched in July 2022 and have already achieved organic certification through the Soil Association, and been shortlisted in the Scotland Start Up Awards in the Best Rural and Best Food categories.
The Biosphere Certification Mark process asks applicants to explain what they are doing to reduce the environmental impact of their business operations and describe their actions around recycling, transport, purchasing, managing premises and more, as well as their approach to supporting local people employment policy and improving biodiversity through nature-friendly adaptations. Deer Manor's mushroom-growing process entails an earth-enriching cycle that challenges the narrative that modern farming is necessarily intensive and intrusive. The farm has water and energy reducing measures in place and has made sure that all their packaging is compostable and biodegradable. The gentleness of the farming at the Polbae estate has made it a safe haven for some of our most beautiful wildlife including deer, red squirrels and hare. Deer Manor is also forging ahead in some exciting collaborations across the GSA Biosphere region; as well as selling through the food hub's hyper-local online shop, Deer Manor is working with Proud Supporters Penninghame Estate and The Smithy at New Galloway, and supplying accommodation providers including fellow Certification Mark holder, Nithbank Country Estate.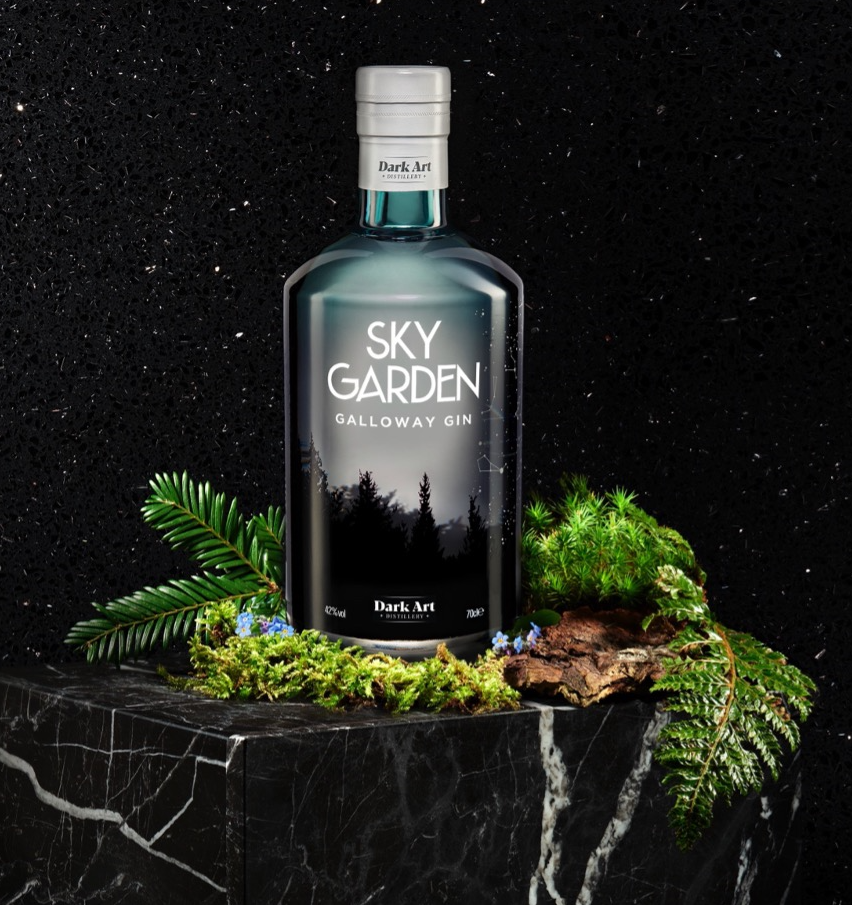 Over in Kirkcudbright, Dark Art Distillery has also achieved the Biosphere Certification Mark, and like Deer Manor is now entitled to label its goods with the distinctive sundew logo. Opening to the public in the renovated Johnson Building, Dark Art distils and sells Sky Garden gin, with tours and tastings available too. Sky Garden is a multi award-winning craft gin (including Best Newcomer at the Scottish Gin Awards in 2021) made with locally grown and foraged botanicals; packaging is plastic-free and the beautiful glass bottles are Scottish-made. All processes from drying and maceration to bottling and packing are done on-site and the Dark Art team are dedicated to creating and facilitating business and event partnerships, including with Raiders Gravel and Stranraer's Jazz Weekend at North West Castle.
Like Deer Manor Mushrooms, Dark Art Distillery has created jobs for local people, and takes pride in developing staff's skills and interests whether these lie in the technical side of gin making or the heritage of the craft and the distillery's location within a historic building in 'the Artists' Town'. Sky Garden was inspired by Galloway Forest Park and the Gold-Tier International Dark Sky Park and Dark Art's marketing and visitor information spotlights the special ecology of the GSA Biosphere region, encouraging people to explore and learn more about nature and the wealth of options for experiencing the outdoors. Look out for upcoming collaborations between Dark Art Distillery and other Biosphere businesses that are ever innovating in sustainable food and drink.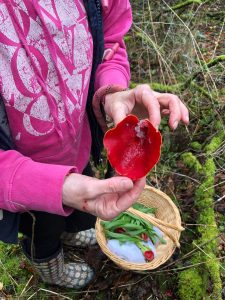 A third award in this sector was made to Teapots Vegan Catering, based in the Biosphere Community of Whithorn. Founded by grower and cook Sheralyn Stuckey, Teapots serves fairs and functions across the GSA Biosphere region, and even sends cakes and other treats to mail order customers across the UK. Sheralyn is passionate about sustainability and fair access to nourishing food; many of her ingredients are foraged in the Machars, including chestnuts, wild garlic and seaweed (and the beautiful scarlet cup pictured), with others grown at home or cooperatively with friends in gardens that are allowed to grow wild for the benefit of pollinating insects. Teapots packaging is recyclable and compostable and Sheralyn's waste reduction policy includes using a local refill business for detergent and other kitchen supplies. This Biosphere business is another great example of Think Global, Act Local in action: Teapots sells through the Glenkens Food Hub, producers' markets in Wigtown and Whithorn, and at special events such as Raiders Gravel and the Ballantrae Festival of Food & Drink. Sheralyn also volunteers at the South Machars Community Fridge, is a member of MAC-CAN, and founded the Machars Crop Swaps which give local people the opportunity to share excess produce and plants.  And Teapots is a Biosphere Proud Supporter, of course – a prerequisite for applying for the Biosphere Certification Mark.
The final certification award from the summer panel was made to artist, designer and maker Lizzie Farey, who creates unique sculptures from natural materials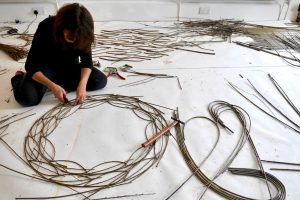 and has a studio at WASPS in Kirkcudbright. Lizzie draws inspiration from the wild landscapes, changing seasons, and wondrous flora and fauna of the Biosphere region and has a passion for environmental and sustainable practices. Her works use organic materials including homegrown, hand-harvested willow from land that provides habitats for insects and birds, and are sent to clients in recyclable, compostable packaging. Visitors to the artists' studios at WASPS are able to read about the GSA Biosphere on an information display and find out more about Lizzie's work and vision and that of other creatives who feel a similar connection with land and natural heritage, including some like Laura Derby that have also been awarded the Biosphere Certification Mark. Thanks to Warren Sanders, photographer and Biosphere-certified cycling guide, for this great capture of Lizzie at work.
Our warmest congratulations to all the above, and to the current Certification Mark holders who successfully applied for their three-year renewal in 2023: Home Cook School, Glenquicken Farm, Drumwhill, and Kitchen Coos and Ewes. We are delighted to be able to recognise and celebrate the consistent hard work that goes into running a sustainable business, and the local commitment to Sustainable Development Goals.
Applications for the Biosphere Certification Mark are open all year round and there is no charge at any stage. Read more about the qualifying criteria and assessment process here and if you would like a preliminary discussion before applying don't hesitate to get in touch – our Business Development team are reachable via info@gsabiosphere.org.uk.