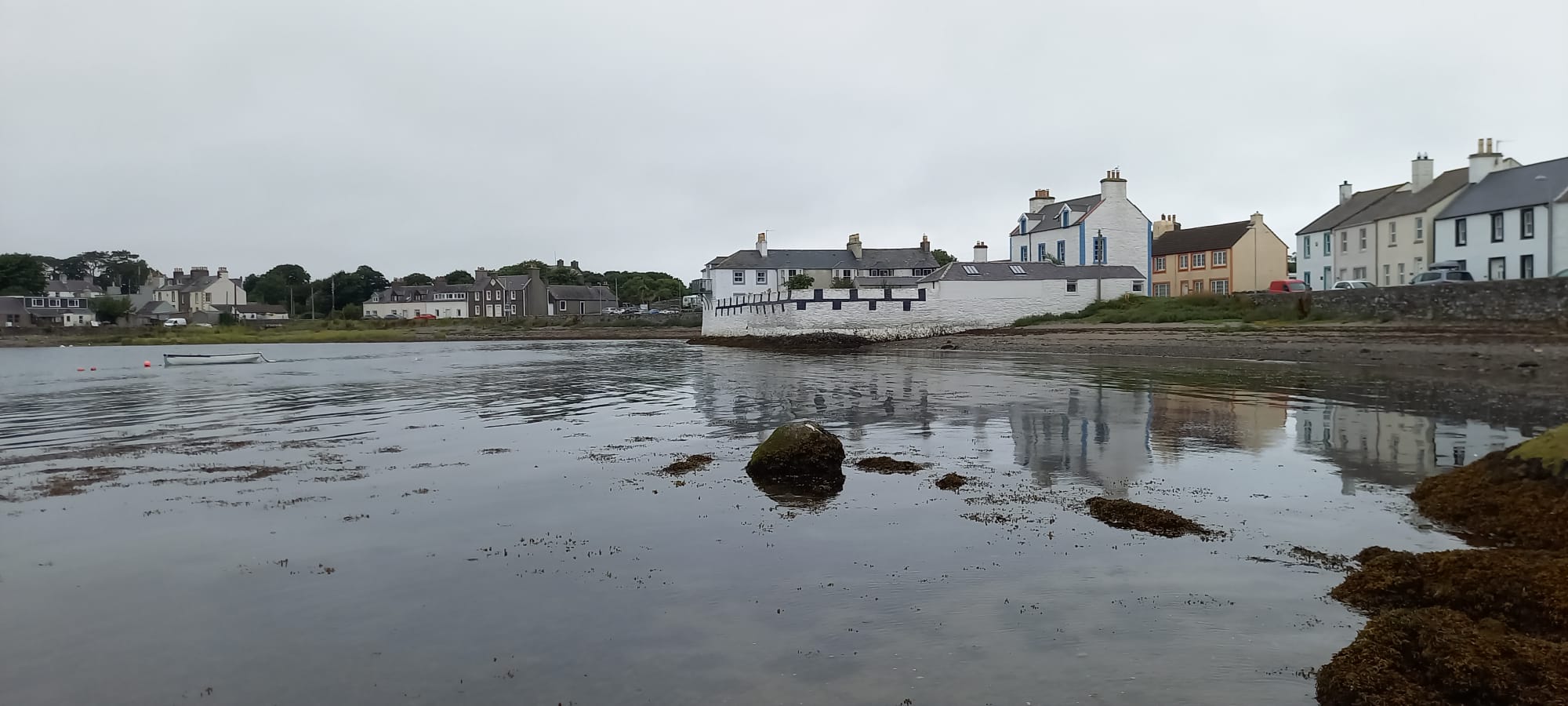 Whithorn
The Machars region of SW Scotland is attractive to pilgrims, artists, walkers, bird watchers, bikers, and anyone fascinated by the rich history of the area.
Whithorn – a Royal Burgh town – and the cradle of Christianity in Scotland is a gateway to many coastal delights.  It is close to the official Galloway Forest Dark Sky Park. Even with the street lights switched on, the Milky Way can clearly be seen arching above the town. Just to the north is Wigtown, famous for its annual autumn book festival and site of the infamous martyrdom of the Covenanters in Wigtown Bay. Garlieston is where trials of the D-Day Mulberry Harbours took place. On the west of the Machars peninsula at Monreith, is Gavin Maxwell's home (author of 'Ring of Bright Water'). Head south towards the Isle of Whithorn, and you are faced with a series of narrow roads, interlinked and abounding with agricultural and religious history. From the Isle of Whithorn or on the Burrowhead cliffs, you can see views over to Kirkcudbrightshire, the massive hills of Cumbria across the Solway Firth, to the Isle of Man, and to the Mull of Galloway. Because we are on the Gulf Stream, the climate is moderate. We rarely have frost, even more rarely snow, and the unpolluted light, both piercing yet soft, shines on a landscape that varies from rugged cliffs to sandy beaches to views of the massive Galloway Hills. Winters can be windy and rainy, but January's snowdrops and daffodils proclaim the early arrival of spring.  Our people are known for their friendliness, while artists and crafters in clay, glass, wool, food, and drink delight our senses all year-round.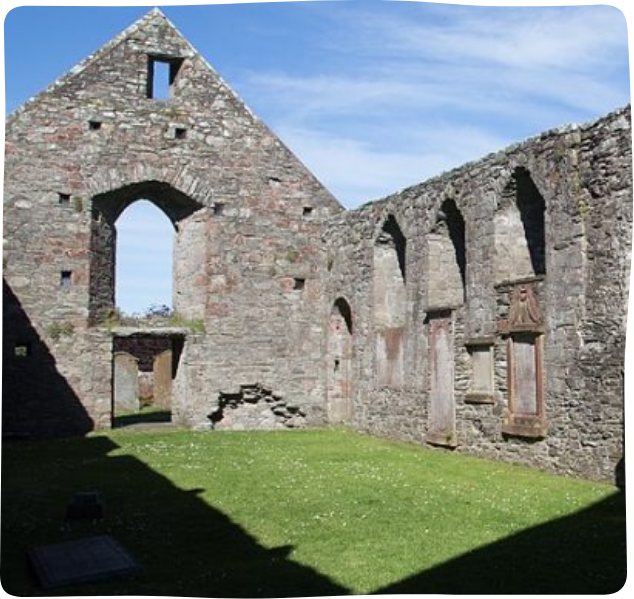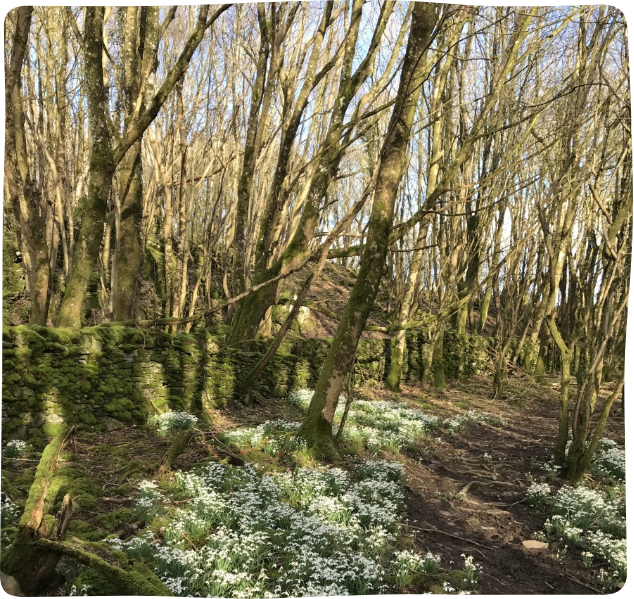 Wildlife and Natural Beauty
Wake up your senses by experiencing the natural beauty of the Machars Region: a magical place where forests meet the coast, beaches extend for miles, the past meets the present, and nature lives in harmony with human communities.
Here you will find a diverse range of birds including buzzards, gannets, guillemots, kites, geese, waders, curlews, and oyster catchers. Along the rugged coastline you might see badgers, foxes, hares, and rabbits.  Even a normally elusive otter was seen walking down the street in Whithorn!  With luck you may see a pod of harbour porpoises or some seals.
The coastline is testament to the region's history.  One of our most famous sites, St Ninian's Cave, is protected by a pebble beach, nestled between steep, rugged cliffs. The first view of the cave is breath-taking: as you head toward the beach down a woodland path alternately carpeted with masses of snowdrops, bluebells, and wild garlic, you will lose all sense of time.  For many, it is a place of religious importance, telling the story of Christianity's arrival in Scotland.
Not to be forgotten inland are pockets of ancient woodland surrounded by smooth rolling and relatively flat topography. Again, the diversity of species could send even the most amateur naturalist into a frenzy. It is no surprise that many areas are of environmental interest and  protected.
Recreation and Enjoyment
You could easily lose yourself on coastal walks and pathways, experiencing a variety of inviting beaches.  Walk the coastal path from Garlieston to Isle of Whithorn; enjoy a woodland walk in Kilsture Forest; or wander down the tranquil Physgill Glen leading to St Ninian's Cave. The Pilgrims Way provides a walk from Rispain Camp to the Cave.
Along the way are late-Victorian gardens to be enjoyed at Galloway House or Claymoddie, with its romantic garden and rare-plant nursery and the huge collection of monkey puzzle trees on the Monreith Estate.
Take a wildlife boat trip or do some sea fishing at Isle of Whithorn, where there is also a sailing club.  You will find many opportunities for bird watching from the RSPB reserves at Wigtown and Crook of Baldoon.
Local bowling clubs abound, and you can tee off on the golf course at St Medan's and Wigtown.  Nationally recognised, colour-coded and signposted routes are popular with cyclists.  Whithorn's Bravehearts Boxing Club is home to a gold medallist in the Commonwealth Youth Games 2017 and the Scottish Heavyweight Champion 2017.
With dark skies to star gaze and our unpolluted, incredible clear light, this is a dream location for photographers  — or just relax, drink, and eat in local cafés, pubs, and restaurants.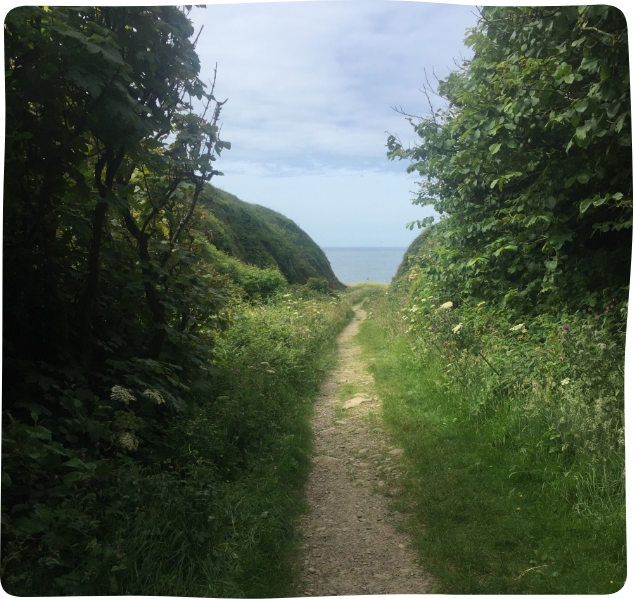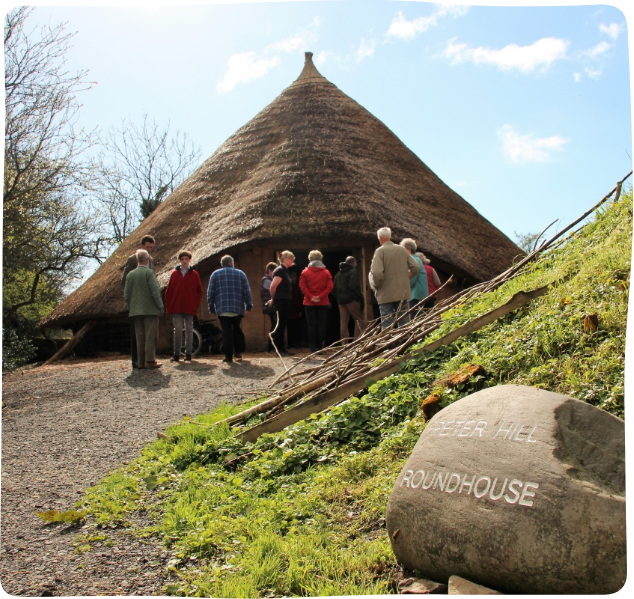 Heritage and Culture
Whithorn is the one of the most historically rich places in Scotland.  A Royal Charter was granted in the sixteenth century.  Our archaeology dates from the Mesolithic, Iron, and Bronze Ages.   St Ninian's arrival in the fifth century makes us the cradle of Scottish Christianity. A visit to the Whithorn Story museum with its full-size Iron Age Roundhouse, exhibition, carved stones, priory, and crypts is a must!  St Ninian's Priory Church offers a warm welcome to all visitors, and the petrol station in former St John's Church can't fail to make you smile.
Whithorn is a welcoming place for all visitors. The friendliness of local people, the beautiful Georgian streetscape, and surrounding landscapes steeped in farming traditions, combine to create a 'stepping back in time' experience. In the surrounding area, Pictish carvings, pre-historic cup-and-ring marks, and the mysterious Torhouse and Drumtroddan standing stones bring a vivid sense of how truly ancient this area is. Nearby Sorbie Tower is worth a visit.   The history of the sea trials for the D-Day Mulberry Harbours are well-marked in the harbour town of Garlieston. Nearby are Galloway House and Cruggleton Church and Castle, with its arched remains. Whithorn and District has a huge amount to offer.
You will want to come back again and again.
Local produce
The region's beef and lamb finds its way to supermarkets and fine restaurants, but there's still plenty for visitors and residents to enjoy!  Local cheesemaker 'From Ewe to You' in Sorbie stocks many a local larder.  Marsh lambs, grazed on the inner Solway, are a specialty.  Whithorn's traditional family run Central café makes its own Italian ice-cream.  The Bladnoch Distillery is the furthest south in Scotland.  There's the Five Kingdoms microbrewery on the Isle of Whithorn and the Crafty Gin Distillery at the Newton Stewart roundabout.  Our king scallops can't be beat.  The local catch includes monkfish, crabs, lobsters, sea bream, mackerel, and even cuttlefish, all available at Machars restaurants or from the Ferry Fish van that does its weekly round across the region.  We even have tea and chilli growers!
Perhaps not produce exactly — but definitely 'home grown' on Whithorn's George Street — are Priory Antiques, Peter Wareing Ceramics, with ceramics designed and made in his pottery; landscape artist and framer, Kevan McGinty. The Wee Garden Gallery produces commissioned clocks, mirrors, and leaded glass for customers around the world. Happy Snail Crafts textile artists and hand knitters can be found in Studio 17 on Isle Street, along with Galloway Graphics  In every corner of the Machars, glass blowers, milliners, woodworkers, violin makers, book sellers (and writers), artists, and artisans ply their craft.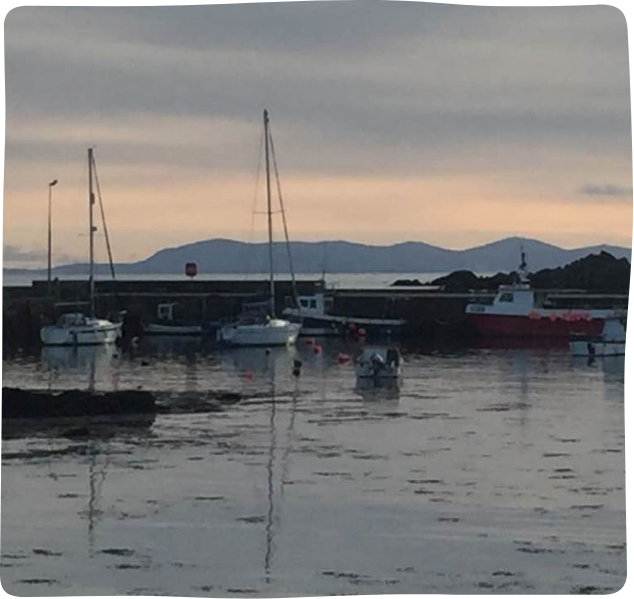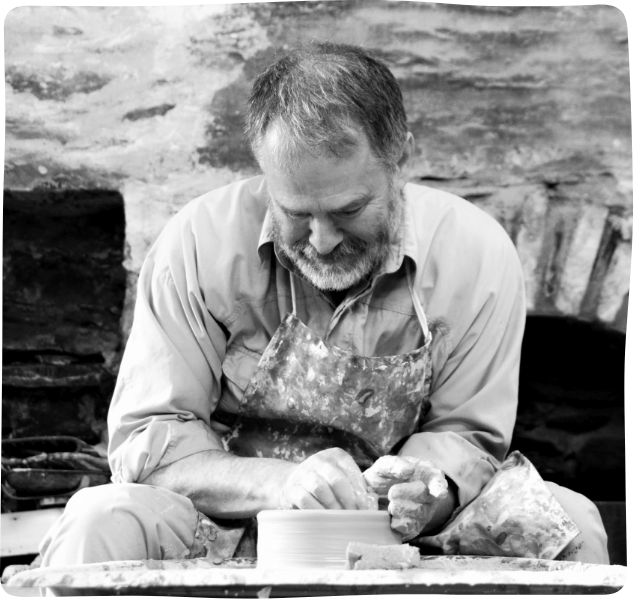 Inspiration
The first thing a visitor notices in the Machars is the extraordinary light; the second is the range of landscapes. The silence — broken only by the breeze, the soft splashing of waves, and bird calls — can be almost shocking.  It's little wonder wildlife and landscape artists, writers and craftspeople, actors and poets have made our region their home.
Every August, the Creative Whithorn Arts & Crafts Trail attracts visitors from far and wide, as does the Dumfries & Galloway Spring Fling open studios.  The annual Wigtown book festival has become an international attraction.  The Swallow Theatre — the smallest professional theatre in Scotland — presents productions of pre- and post-Edinburgh Arts Festival acts, also play readings and live music, all from their imaginatively renovated barn.  Film makers for the cult movie Wicker Man were inspired by our wild remoteness.  Gavin Maxwell wrote 'Ring of Bright Water' here, commemorated with a lovely otter statue near Monreith.
A sky full of stars, long unseen by so many in our light-polluted world, is simply awe-inspiring.  Walking down to St Ninian's Cave provides a special meditation on time, nature, and the faith that first brought Christianity to Scotland.  Andrew Brown's Standing Man statue, looking out to sea in Port William, perhaps best illustrates the mind-set of this area: seeking yet satisfied, complete in itself, creative, quiet, and contented.
Tranquillity
Leave the stresses and anxieties of 21st century life and enter the tranquil beauty of a bygone agrarian age. Be amazed by the clarity of light, soft verdant landscapes, the gentle singing and chattering of sea bird and wildfowl colonies, and our deserted rugged coastlines. Visit the Galloway Astronomy Centre and discover our very own Dark Sky, mirroring the official sites in the Galloway Forest to our north. Enjoy one of the many glorious woodland and coastal paths. Marvel at the churches, the dramatic tidal changes, the prehistoric stones and forts, the region's famed carpets of snowdrops and bluebells, the distinguished Belted Galloway cattle, and our astonishing views of The Lake District, the Isle of Man, and the Mull of Galloway.
Ours is an area where the cares of the world are easily shed.  We are remote in many ways, yet surprisingly near to Ireland, Glasgow, and the English border.  Come for a visit!