Back to blog
A glittering awards season for GSAB and Biosphere Businesses!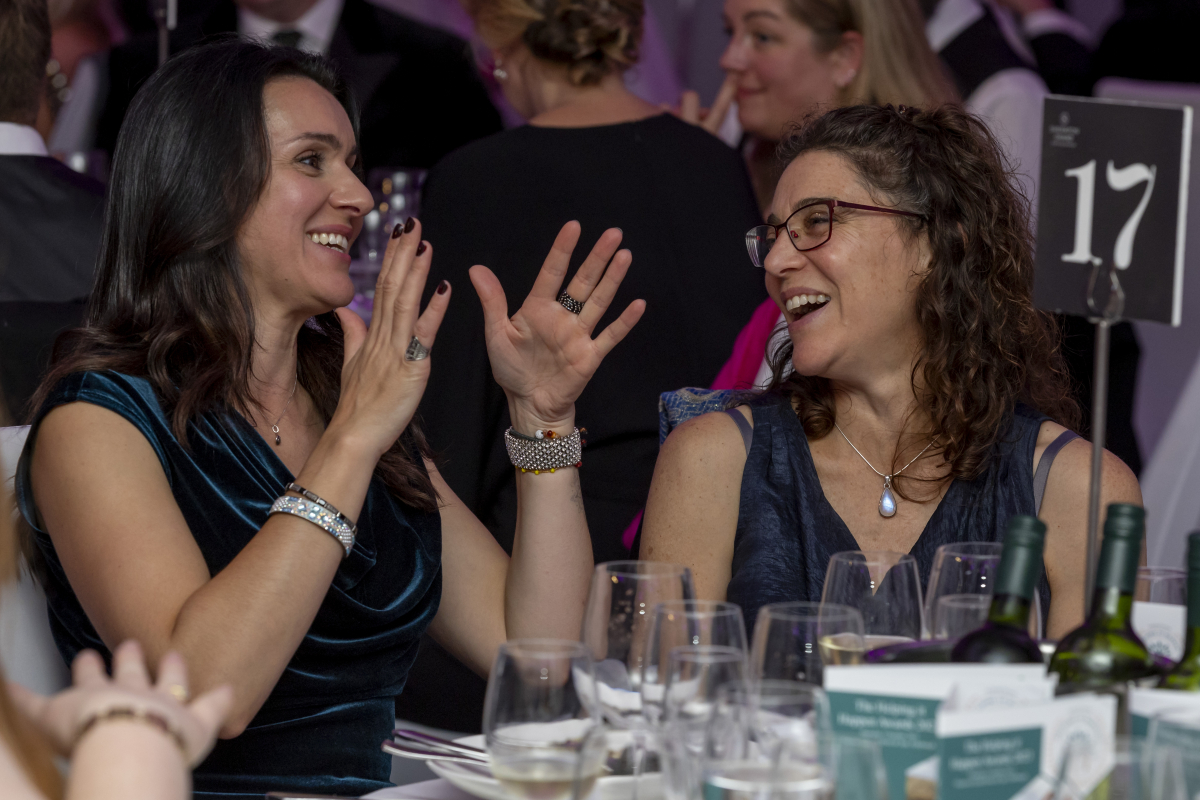 The 2023 awards season is well underway with notable wins and some WOW moments in and around the GSA Biosphere!
Congratulations first to the Biosphere Certification Mark holders who have already been successful this year…
The VisitScotland Scottish Thistle Awards are an aspiration for everyone across the country as we work together to celebrate Scotland and the history, culture and unique sites that enchant visitors from across the globe. Now more than ever our focus – and that of our partners in destination marketing such as VisitScotland, the SSDA, SCOTO, the AADA and more – is to make sure that sustainability is embedded within our amazing tourism offer. We're delighted to see the South of Scotland as a distinct region in the Thistles for the first time in 2023, and for a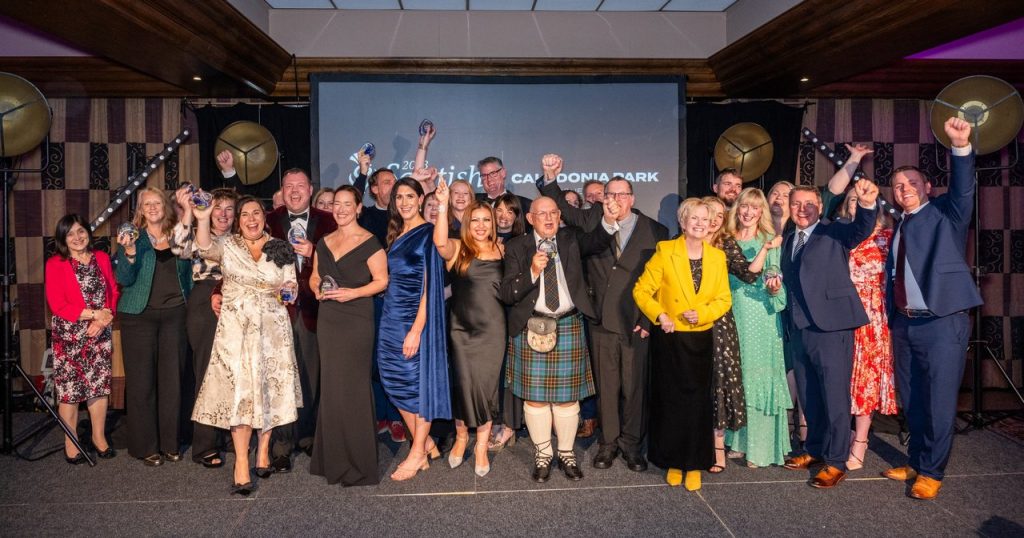 Climate Action Award to be included in the award categories, and even more so for the inaugural trophy to go to Nithbank Country Estate, a Biosphere Certification Mark business since 2019. Nithbank was particularly recognised for its drive to reduce carbon emissions – a meaningful reminder that all sectors and all sizes of businesses have a part to play in the Net Zero journey. In one of the aforementioned wow moments, Nithbank also won top prize as Best B&B or Guesthouse Experience, while Melanie Allen, who owns and manages Nithbank with her husband John very deservedly won Tourism Individual of the Year. It's a huge privilege to take home a single Scottish Thistle Award but to take home three in one night is exceptional. Well done Mel and John!
Also winning first place in their category was Kitchen Coos and Ewes. If you haven't heard of Kitchen Coos before, we highly recommend booking a place on this farmer-led Highland cow safari – it really is one of the GSA Biosphere's most special visitor attractions. There are several options available from a relaxing ride in the purpose-built weatherproof trailer to walking and hands-on tours and the 'Haute Coo Tour' experience (surely worth booking just on the basis of that pun). What makes Kitchen Coos and Ewes extra wonderful is that it's not just about cows (or sheep) but the rural heritage for which our region is recognised by UNESCO. For anyone wavering the home baking at Airyolland Farm is fantastic and there's a wee shop for treats and gifts to take home. Look out for the Biosphere Certification Mark plaque when you visit – Kitchen Coos and Ewes has held this award since 2020.
Special mention to Biosphere Bikes at Girvan – Ann Berry and her team reached the regional finals for the west of Scotland in the Thistle Awards, in the Inclusive Tourism category. Biosphere Bikes is a not-for-profit social enterprise and Biosphere Certification Mark business, led by a vision to make cycling accessible to all regardless of age, experience or ability. Two wheels is quite possibly the very best way to explore this UNESCO Biosphere and we were thrilled that Ann, a longstanding champion of the region, was at the finals this year.
Our team were proud to be finalists ourselves in two esteemed awards this year…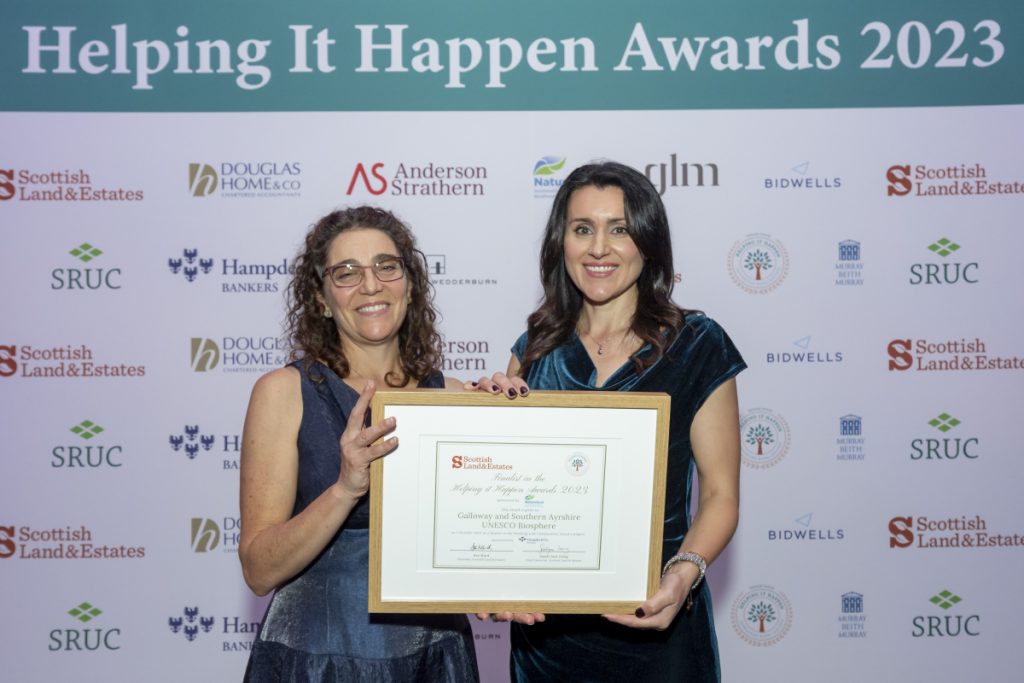 The Scottish Land and Estates Helping It Happen Awards recognise outstanding contributions to rural life and the GSA Biosphere was a finalist in the Working With Communities category. Our nomination was based on the projects GSAB leads across the 9,700km² UNESCO-designated area, including the Biosphere Communities scheme and lifelong learning initiatives, and those we partner in, such as community-led destination marketing and public events that help people connect with nature, wellbeing, and sustainable living. (This is a good place to drop in our Eventbrite page – follow us to find out first about Biosphere events near you.) Jenna, our Community & Education lead, and Sara, who heads our Land Use & Biodiversity team, had a great night out in Edinburgh at the SLE Helping it Happen finals – congratulations to all the winners!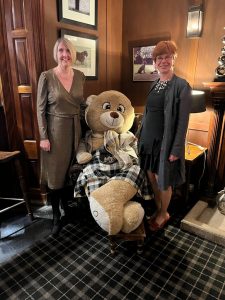 As part of our Business Development staff, it was Marie and Esther's turn to dispense with sturdy boots and weatherproofs in favour of attire to suit the Ayrshire Business Awards 2023. GSAB was a finalist in the Tourism Award and we were beyond delighted to win this category, against tough competition from Trump Turnberry and the beautiful Gaiety Theatre in Ayr. Hosted by Ayrshire Chamber of Commerce, the Ayrshire Business Awards promote business achievements, raise profile and recognise success, and we are incredibly proud to have this opportunity to celebrate our ongoing tourism initiatives such as our Sustainable Events and Visitor charters, Biosphere Guides, Scotland's UNESCO Trail, Green Stories webinar training for businesses, all our self-guided discoveries and the free maps, walks, and other resources that support communities, businesses and visitors.
Please do keep an eye on the national awards that are still to be announced…
The finals of the RSPB's Nature of Scotland Awards will take place in Edinburgh in late November. Special mention of the SW Scotland Regenerative Farming Network and NatureScot's Peatland ACTION which are both finalists, in the Food & Farming Award and Landscape Restoration Award respectively. Good luck to both and indeed to all shortlisted – there is  groundbreaking work taking place nationwide and the shortlist is truly inspiring.