Back to blog
Young Speakers from the GSA Biosphere on the programme at F5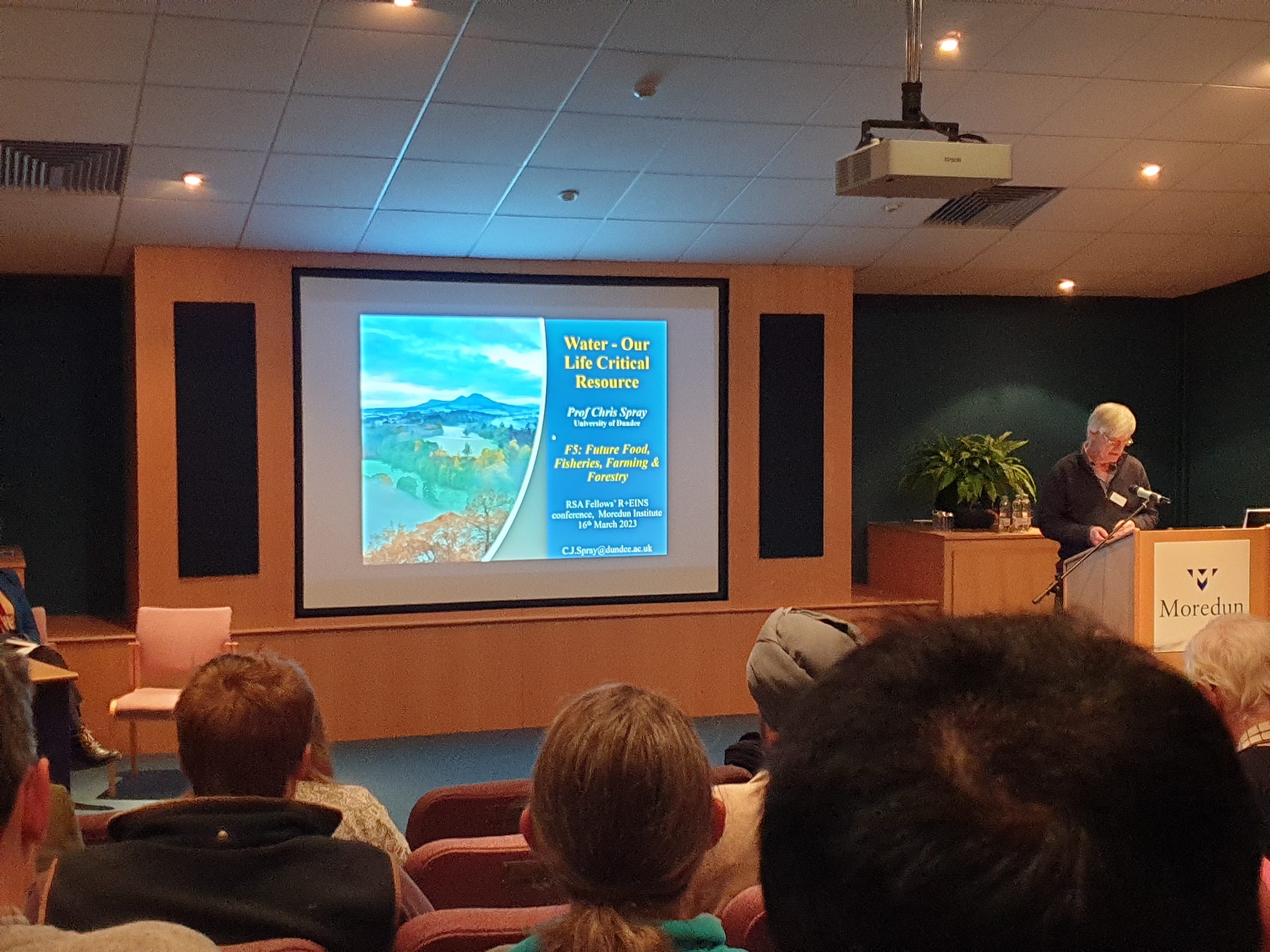 The GSA Biosphere's two Project Support Officers attended an important partnership event this week: Future, Food, Fisheries, Farming & Forestry, which was held at The Moredun Research Institute near Edinburgh and hosted by The Royal Society of Arts and Ann Packard who founded R+EINS (Rural + Environmental Networks Scotland). This collaborative symposium brought together speakers from key land use industries to talk about the challenges, pressures and opportunities that are impacting food production, biodiversity, rural communities and economies.
Jake and Malcolm are with the GSA Biosphere for 12 months learning about our region's UNESCO designation and how partnership working and knowledge-exchange can support sustainable development. They were kindly invited to F5 not only to learn more about land-based industries but also to contribute to the discussions themselves. They were also able to interview a number of attendees about challenges affecting their organisations, and land use in Scotland more generally. Malcolm was on the programme speaking as a young person, a demographic that is often underrepresented in discussions about the economic issues that will significantly impact their lives and careers. An important point that Malcolm made was that whatever projects and initiatives audience members are working on today, soon enough these will be passed into younger hands; Malcolm emphasised how critical inclusion and education is, if the next generation is to be able to steer good practice even further forward. Malcolm talked about how important it is that farming, fishing and forestry connects and collaborates with other sectors, and about how the changes these industries are seeing are not just in policy or out on the land: they are tangible in everyday life, in our workplaces and our homes. Finally, Malcolm was keen to emphasise the role that young people can have in using their passion and knowledge to inspire change within their families and among their peers.
To give an idea of the breadth of expertise on the agenda at the F5 event, here is the full list of speakers and the topics that were discussed:
Professor Julie Fitzpatrick, Researcher at The Moredun Research Institute and FRSE: Climate change, parasites affecting livestock and vaccine production;
Dr George Burgess from The Scottish Government: The impact of the global market on imports and exports of food and raw materials;
Dr Clive Mitchell from NatureScot: The context of climate change on land use;
Dr Janina Zuleika Costa, SAIC: The challenges and importance of aquaculture (salmon farming);
Professor David Miller, James Hutton Institute: The value and importance of rural land partnerships and multifunctional land and sea use;
Dr David Signorini, Scottish Forestry: The opportunities of woodland creation;
Martin Kennedy, NFUS: Modern challenges to farming and asks to government;
Bruce Wilson, Scottish Wildlife Trust: Statistics of declines and land use challenges facing biodiversity, and asks of government;
Professor Lorna Dawson, James Hutton Institute, SEFARI and the Food, Farming & Countryside Commission: The importance of soil and how to improve it;
Professor Chris Spray, Loch Lomond & Trossachs National Park and University of Dundee:  The importance of water and how we need to value it;
Jo O'Hara, Institute of Chartered Foresters: Woodland and the science behind carbon storage;
Crick Carelton, Nautilus Consultants: The importance of resilient communities and community engagement;
Lady Catherine Maxwell Stewart, Traquair  House: Business diversification and sustainability and asks of government;
Marion MacCormick, ARIOB (Agriculture Reform Implementation Oversight Board): Future supply chains and retail, and what we need to do to change its direction;
Tim Bailey, SAOS (Scottish Agricultural Association Society): The challenges and importance of collaboration;
Malcolm Haddow, GSA Biosphere: Young person's perspective on land use and rural industries.
Our thanks to F5 funders who made it possible for Jake and Malcolm to be a part of this important forum.