Back to blog
Young Nature Blogger 2021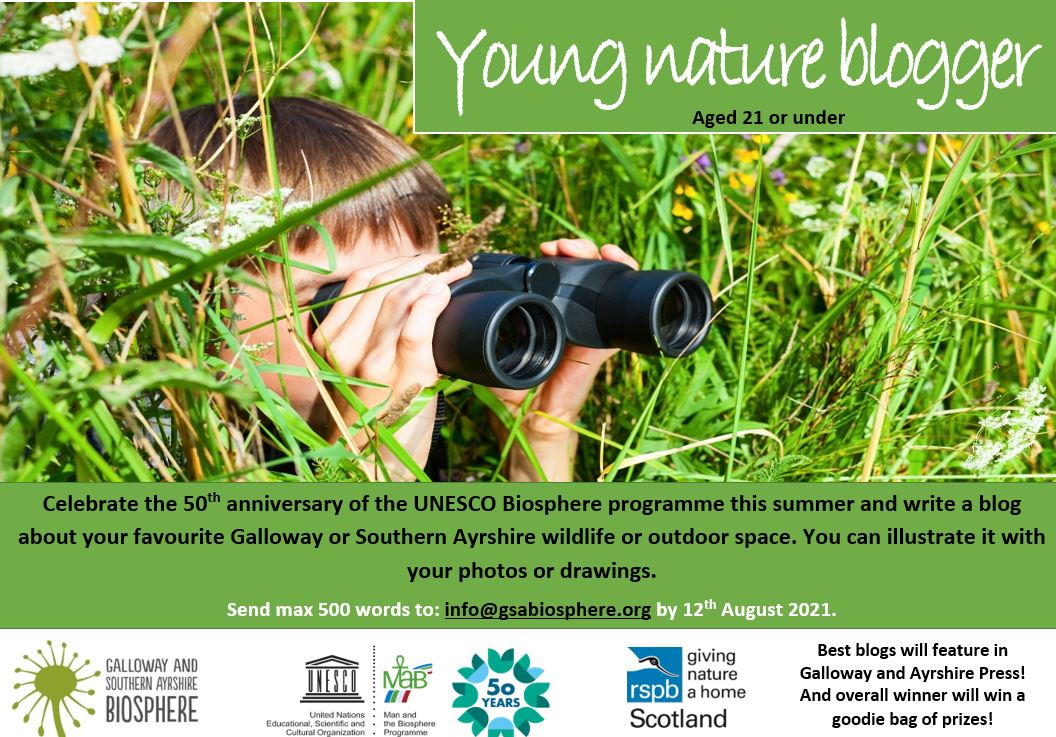 Young people who love nature and the outdoors are invited to take part in a summer writing challenge and is open to everyone aged 21 and under.
Entrants should write up to 500 words about nature in our Galloway and Southern Ayrshire UNESCO Biosphere in SW Scotland which is renowned internationally for its amazing wildlife and spectacular countryside. Entrants should send it in accompanied by their own photos and/or drawings if they wish to.
Entries should be sent to info@gsabiosphere.org.uk accompanied by the entrant's name, age, email address and phone number.
Photos should be at least 1MB and no bigger than 5MB and should be sent separate to, and not embedded in, documents.
The challenge closes on 12th August 2021.
Entries will be judged by Keith Kirk, local wildlife and environmental photographer and writer and Andrew Bielinski RSPB Scotland area manager. Winners will receive wildlife goodie bags and their blogs will feature in DG Life magazine and Ayrshire Magazine as well as Biosphere websites in the autumn.
Keith Kirk, local wildlife and environmental photographer and writer said:
Being out in, connecting with and noticing nature in our Biosphere is good for wellbeing and we encourage young writers, photographers and illustrators to explore this summer and share their unique observations with us.
Andrew Bielinski, RSPB Scotland Area Manager said:
We hope Young Nature Blogger 2021 inspires young people to engage with our wonderful SW Scotland nature, be amazed at the diversity we have, and learn why it's so important that we all nurture and care for it so that it remains wonderful for generations to come.
The first prize winners from Galloway and Southern Ayrshire and from each participating Biosphere will be judged for an overall prize. Four UK and Ireland UNESCO Biospheres are running Young Nature Blogger 2021 and we are collectively delighted to have multi-award-winning nature writer Dara McAnulty on the panel of judges for the overall prize. Dara's first book, 'Diary of a Young Naturalist', was published when he was only 16 and went on to win the British Book of the Year Award in the narrative non-fiction category, having been shortlisted alongside Sir David Attenborough, Barack Obama, and Captain Tom Moore.
The Man and the Biosphere Programme celebrates its half century in 2021 and Young Nature Blogger 2021 is accredited as an official 50th anniversary event. UNESCO's Man and the Biosphere Programme promotes conservation, learning and sustainable development.