Back to blog
Outdoor Classroom Day and young learners in the GSA Biosphere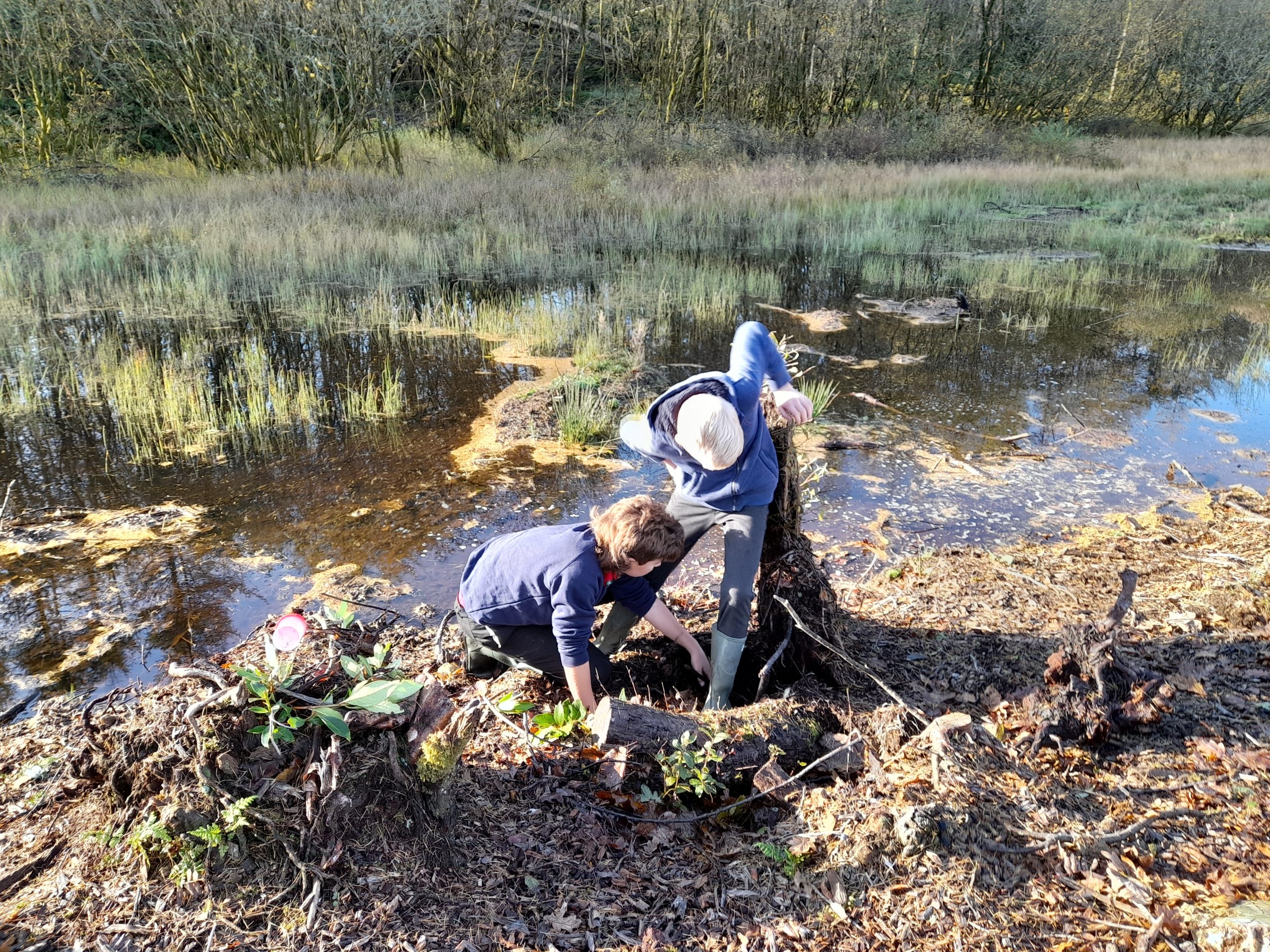 Outdoor Classroom Day is a movement to bring outside, experiential education to children all around the world. It takes place on 18th May and 2nd November this year – and we love that there are two awareness days, maximising participation and allowing young learners to experience seasonal changes. Here in the GSA Biosphere we are hard at work supporting local educators with hands-on learning based on the landscapes and wildlife of our UNESCO-designated region, in particular through our Learning for Sustainability Toolkit and associated workshops that our team are delivering in schools.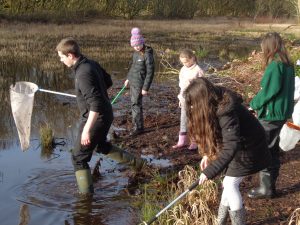 Faith from our Community & Education team, with Malcolm as project support, have led monthly outdoor learning sessions at New Luce curling pond since September 2022. Through pond-dipping and bug-hunting, pupils from Glenluce and Castle Kennedy Primary Schools have been discovering the wildlife that lives in and around a pond, and seasonal changes such as migration of wildfowl and how spring brings a burst of life. They have also been able to see how the variety of species has expanded with recent restoration of the site carried out to improve accessibility and natural habitats. Pupils have learned about curling, an important part of their own community heritage: how the granite for curling stones comes from Ailsa Craig, and why curling ponds are not used much now due to climate change. These visits have been funded by New Luce Community Trust who have provided a weather station, iPad to support learning, and a bus to transport the children.
Faith and Malcolm with Jake (also a Project Support Officer) have also been delivering the Learning for Sustainability Toolkit workshops in schools across all three local authority areas covered by the GSA Biosphere.  At Ochiltree Primary, pupils learned about technology and the Biosphere, how scientists tag white-fronted geese from Loch Ken, to track their journey to Greenland and find out more about why their numbers are in decline. Glenluce and Castle Kennedy primaries had their LfS day out on the beach at Sandhead, where children played the limpet game, learned about how dolphins use echolocation to catch mackerel, why different sea creatures are different sizes (comparing a blue whale with a harbour porpoise!) and identifying the various types of seaweed found on the shore.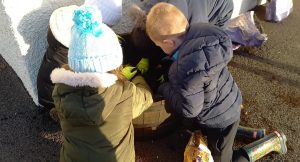 At Colmonell, Girvan and Ballantrae we planted bulbs in planters to attract pollinating insects, as part of the B-Lines project which links habitats for bees. At Ballantrae we made a giant osprey nest on the beach using driftwood, to see how hard it is to build a nest and how big they are (osprey nests are 6ft wide). Children created transient art – making sculptures and pictures on the beach and leaving them there for the tide and weather to take away – and looked together at interesting items we found on the beach. At Carsphairn Community Woodland with Kells Primary and Dalry Primary schools, we planted trees, did some bug-hunting, and learned about native woodland habitats and why these are so important for plant and animal life.
Learning for Sustainability workshops in schools will conclude this summer as the term ends, but our LfS Toolkit is available to all as a free download in the Resources section of our website. Hard copy toolkits are available to schools on request, also free of charge – please contact info@gsabiosphere.org.uk.
Click here to find out more about Outdoor Classroom Day and ways in which you and/or your school can get involved.