Back to blog
Our Blackface wool project is heading to the Royal Highland Show!
The Galloway & Southern Ayrshire Biosphere team have been invited to join British Wool at this year's Royal Highland Show, to showcase our pioneering project which aims to transform the way we use fleece from Scottish Blackface sheep.
'Blackies' are perhaps the most familiar breed of sheep in the southwest, well suited for life in all weathers, particularly on upland farms.  The value of Blackface fleece used to reflect the versatility in how it was utilised in clothing, blankets, and more, but has dropped drastically in recent years through competition with manmade fibres and manufacturing abroad.  Blackface wool is now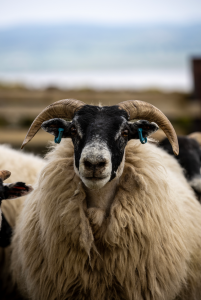 typically only sold for use in the carpet and mattress trades.  The Biosphere's Business Development team believes there could be an opportunity to revive the market for knitted items of outwear, as consumers become increasingly aware of sustainability issues and the imperative to cut carbon emissions and waste.
Our wool project launched in autumn 2021 and soon attracted funding support from the Blackface Sheep Breeders' Association, a contribution that helped drive progress through its first eighteen months.  From an initial purchase of 1,000kg of fine grade Blackface wool, other partners joined for spinning and testing yarn, with British Wool providing advice and expertise along the way.  The project has now designed and produced a gilet, cardigan, jumper and jacket, each made from pure Blackface wool sourced from farms in the Biosphere region.  With these four prototype garments in hand our team will be heading up to Ingliston, Edinburgh, for the Royal Highland Show, which takes place between 22nd – 25th June.  Their display will be part of the British Wool's dedicated stand in the retail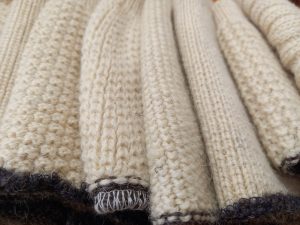 area, and one of the garments will hit the runway in the Flock to Fashion Show at 2pm each day.
Project lead Marie McNulty says, "It's an incredible privilege to be attending Scotland's showcase event for farming and rural life, and especially to be there alongside British Wool.  This is a singular opportunity to promote Galloway and Southern Ayrshire's historic wool industry, our hill farming traditions, and the role that wool can play in building a sustainable local economy.  We want our products to be cosy, comfortable, and to look good of course, and we're so excited to give the public a first look – and the opportunity to tell us what they think."
Our beautiful Blackface sheep pictures were taken at Bagbie Farm near Creetown in D&G – our thanks to the Mitchell family for letting us visit and capture some scenes of farming life. Don't forget you can get involved in the social side of GSAB's wool pilot via The Wool Gathering on Facebook, and keep a look out for upcoming Bleat n' Blether events on our Eventbrite page.