Back to blog
Launching a new Dark Sky Network in the GSA Biosphere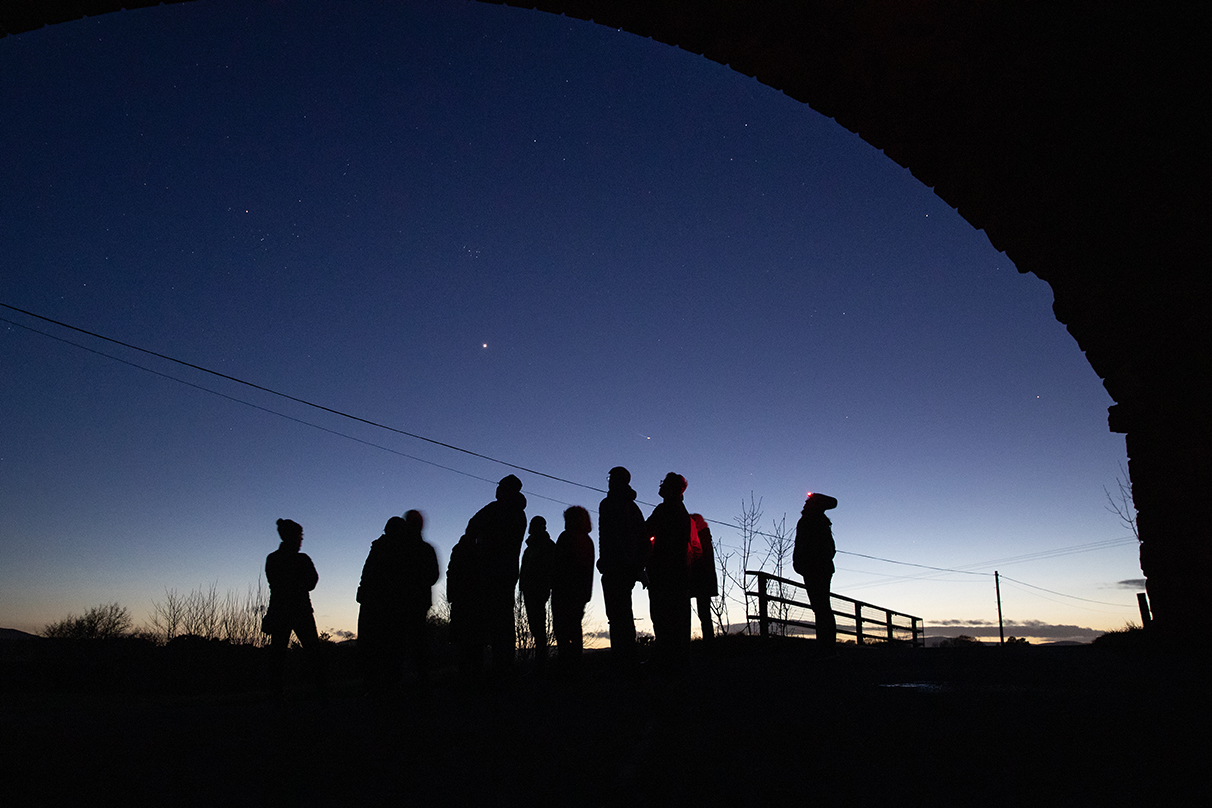 We're delighted to be hosting a first-of-its-kind dark skies event on 22nd June as the GSA Biosphere and partners announce a new collaboration to catalyse tourism, education and art connected with Galloway's Dark Sky Park.
Southwest Scotland was awarded Gold-Tier International Dark Sky Park status in 2009, becoming the first in the UK and only the fourth in the world.  The designated region sits within the Galloway & Southern Ayrshire UNESCO Biosphere, another global accreditation that recognises natural and cultural heritage.
'Re-animating Galloway's Dark Skies' will take place at Glentrool, the only village within the Dark Sky Park.  Researchers Dr Kimberly Dill (Environmental Ethics) and Natalie Marr (Geographical & Earth Sciences) will co-host an informal workshop alongside Marie McNulty, the GSA Biosphere's Business Development lead.  The event is open to anyone currently, or aiming to be, involved in dark sky conservation, including astronomers, artists, business owners, foresters, and astro-tourism guides.  Attendees who wish to do so are invited to deliver a short presentation on their area of interest or expertise.
The Biosphere's workshop is inspired by the creation of a new network to explore how Galloway can maximise the opportunities afforded by the International Dark Sky Park designation. Stakeholders held their first discovery session at the beginning of June at the Selkirk Arms in Kirkcudbright (pictured below). Among the participants were representatives from Forestry & Land Scotland, the Dark Space Planetarium, Glentrool Hive, the South of Scotland Destination Alliance, Galloway Forest Astronomical Society and VisitScotland, plus scientist and author Geoffrey Lindop and Biosphere Dark Sky Ranger Elizabeth Tindal.
Marie McNulty said, "The stars are truly aligned for a regional Dark Sky Network, with tangible support across sectors for dynamic and sustainable partnerships that will boost our visitor economy.  The Biosphere's workshop at Glentrool will draw on some of the most up-to-date international research conducted by our speakers Dr Kimberly Dill and Natalie Marr, and we're excited to see where these conversations will take our network and the designation next."
'Re-animating Galloway's Dark Skies' will take place between 1pm – 4pm on Thursday 22nd June and is free to book via Eventbrite or email marie@gsabiosphere.org.uk to reserve your place.