Back to blog
Coalfield Communities: for the love of Ayrshire!

We're sharing here some photos taken at the Coalfield Communities Landscape Partnership launch event held on 9 July, which brought together people and partners across Ayrshire for conversation, learning, and most importantly family fun. Team GSAB had stands at Dalmellington and Loch Doon, two fantastic locations at which to explain what a UNESCO Biosphere is and does.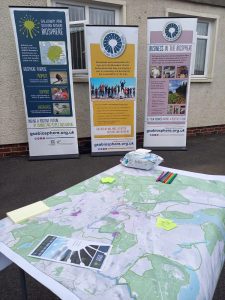 (In case you don't know: this is a special designation awarded by the United Nations Educational, Scientific and Cultural Organisation, recognising the fantastic array of landscapes, wildlife, cultural heritage, and learning opportunities that south-west Scotland offers for communities, businesses and visitors to experience in a sustainable way.)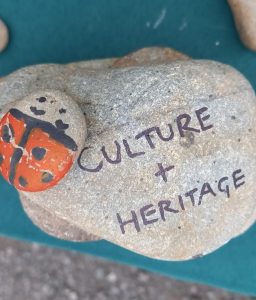 Marie, our Business Development lead, was at Dalmellington for the day – one might even call this her 'happy place', since Marie lives in Ayrshire, loves Ayrshire, and will talk about it until the Ayrshire cows come home! Marie is part of the Biosphere's management team and her speciality is supporting and promoting local enterprise: producers, retailers, local start-ups and community projects who want to operate with sustainability in mind and build on the amazing business network in East Ayrshire and South Ayrshire.
Over at Loch Doon was Jenna, our Communities & Education Lead, who works in partnership with local authorities (East Ayrshire, South Ayrshire, and Dumfries & Galloway councils) to embed Learning for Sustainability within schools. She also promotes our Biosphere Communities scheme, which brings UNESCO's Sustainable Development Goals to towns and villages here and now, inspiring local pride while benefiting the local economy and safeguarding the natural environment.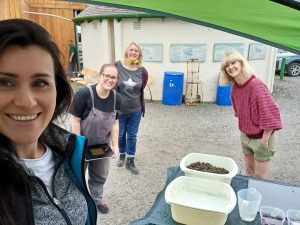 But that's enough about us! Participants at CCLP's launch event included East Ayrshire Coalfield Environment Initiative, Cumnock History Group, The Cumnock Tryst, Doon Valley Railway, Lost Villages… even the Scottish Fire & Rescue Service (who were there to teach safety and CPR, not put out any fires, we hasten to add!). Coalfield Communities Landscape Partnership is all about people and community: its projects will focus on conservation, enhancement and promotion of the natural, built and cultural heritage; creating opportunities for learning, recreation and wellbeing; and equipping ourselves to manage the landscape sustainably, making Ayrshire a successful place for residents and visitors alike. Which is a lot to contemplate, so we'll link below to the CCLP site and you can read more at your leisure.
Last question though before you hop on over there: where is your favourite place to spend time in Ayrshire? Marie ran a Sense of Place exercise with families at last week's launch event and a couple of little gems came up: the Spider Stone at Dalmellington, and the Promised Land on Craigengillan Estate. Both worth a Google, a read, and – of course – a visit.
Click here to read more about Coalfield Communities Landscape Partnership