Back to blog
Apply Now for the Biosphere Certification Mark!
Are you a Proud Supporter business working hard to support our Biosphere?
The Biosphere Certification Mark is awarded to businesses demonstrating their commitment to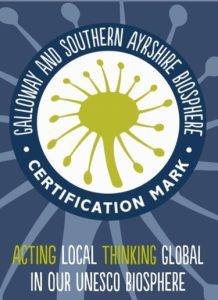 operating sustainably – looking after our environment, supporting community and the local economy, and championing what's special within the Galloway and Southern Ayrshire UNESCO Biosphere. The designation 'UNESCO Biosphere' is the only internationally recognised 'badge' for demonstrating excellence in sustainable development, and our Certification Mark gives local enterprises an opportunity to connect with the globally respected UNESCO brand.
We now have 29 businesses who have achieved certification and are using the Biosphere Certification Mark in labelling their goods and in their promotional materials online and elsewhere. These include food-related businesses, activity providers, accommodation, and members of the hospitality sector. The categories of businesses that can apply have been expanded this year and now include makers working with natural products, wood, and textiles, along with jewellers, potters, and ceramicists. We are thrilled to be able to welcome more local creatives to our branded network of Biosphere businesses and to provide a way for enterprises of all sizes – micro, SMEs and up – to connect. Holders of the Biosphere Certification Mark include Nithbank Country Estate, Gledpark Venison, Land Energy, Salad Brew, Galloway Cycling Holidays and Curly Tale Books – please click through the links to explore their green credentials! The full list of our certified businesses is listed by sector on our website here.
For more information on how to apply please email marie@gsabiopshere.org.uk who will happily schedule a chat. We are holding an online info session on the Biosphere Certification Mark on 6th October at 10.30am, where we will explain the application process in more detail. Please do let us know if you'd like to sign up.
Please note that the deadline for applications is 30th November 2021.