Back to blog
Apply Now for the Biosphere Certification Mark!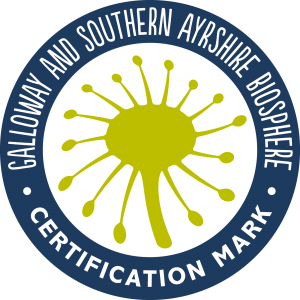 Are you a Proud Supporter business working hard to support our Biosphere?
The Biosphere Certification Mark is awarded to businesses demonstrating their commitment to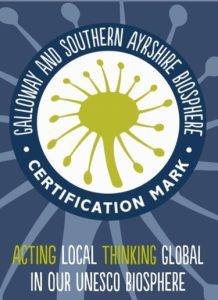 operating sustainably – looking after our environment, supporting community and the local economy, and championing what's special within the Galloway and Southern Ayrshire UNESCO Biosphere. The designation 'UNESCO Biosphere' is the only internationally recognised 'badge' for demonstrating excellence in sustainable development, and our Certification Mark gives local enterprises an opportunity to connect with the globally respected UNESCO brand. As always there will be two rounds of applications this year, and the first of 2022 opens on 1st March.
We now have more than thirty businesses who have achieved certification and are using the Biosphere Certification Mark in labelling their goods and in their promotional materials online and elsewhere. These include food and drink businesses, activity providers, holiday accommodation, creative industries, and a 'Businesses & Services' category which is particularly broad in scope.
Each year we are thrilled to welcome enterprises of all sizes – micro, SMEs and up – to our Biosphere family, and to be able to offer innovative ways for businesses to network and connect.  The full list of our certified businesses is listed by sector on our website here. The last round of applications began at the end of November 2021 and those successful were confirmed at the most recent meeting of the Biosphere's Partnership Board. Our newly certified businesses include Gallovidia Books, Low Auldgirth Steading, Glentrool Holiday Cottage and Barnbarroch Organic.
For more information on how to apply please email marie@gsabiopshere.org.uk who will happily schedule a chat. We are holding an online info session on the Biosphere Certification Mark on 17th March, where we will explain the application process in more detail. This will be followed on 7th April by our very first Green Stories Webinar, led by our Communications & Marketing Officer Tamara Fulcher. This is a chance to learn more about the Hows and Whys of telling customers about your business's journey towards sustainability – everything you have already achieved, and what you'd like to do next! Please do let us know if you'd like to sign up for either event, again by emailing marie@gsabiosphere.org.uk.