Back to blog
Announcing two new recruits to the GSA UNESCO Biosphere's internship programme!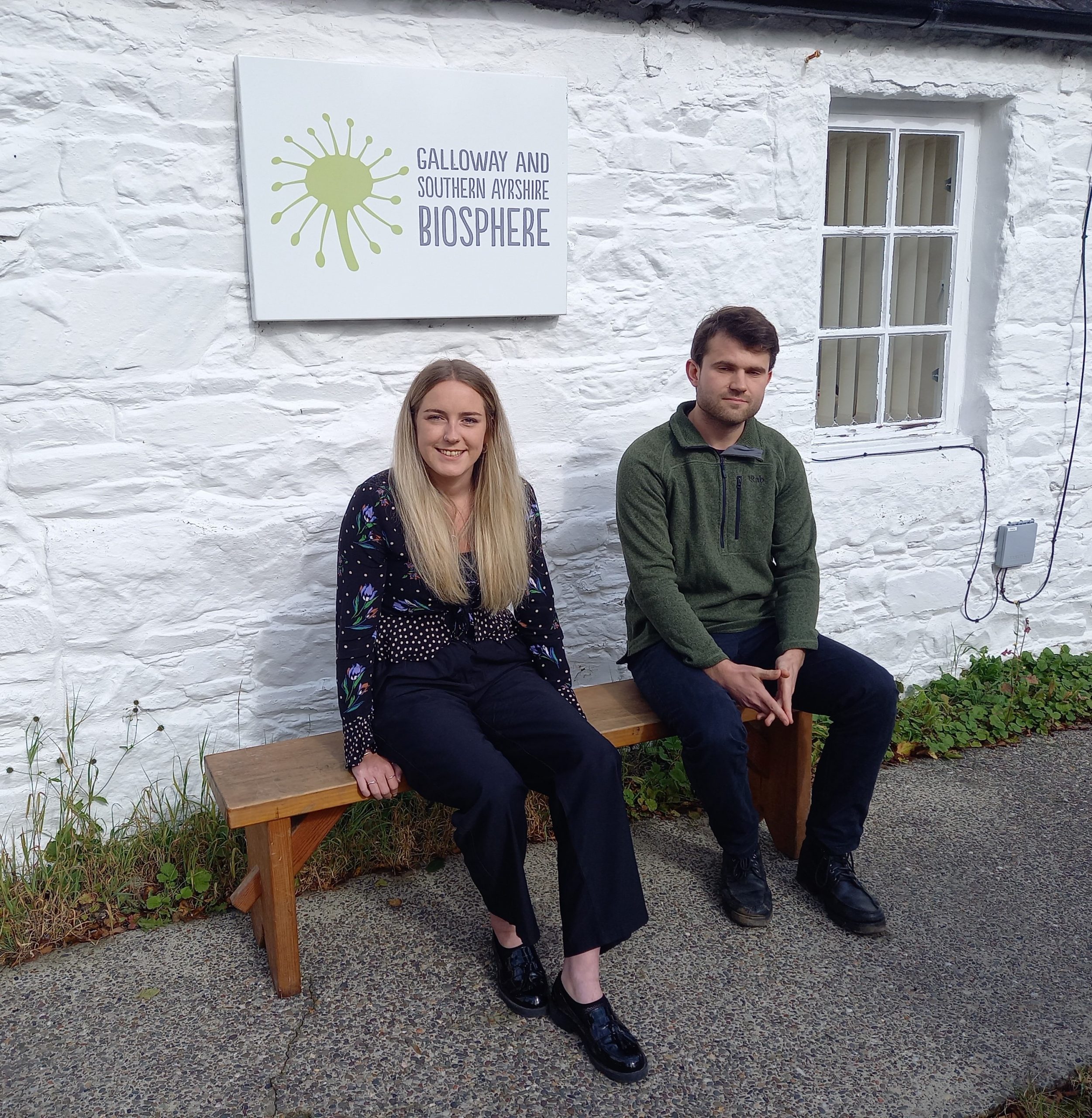 We're delighted to announce the newest recruits to our team with two local young people joining the GSA UNESCO Biosphere in 12-month career development posts.
Following a successful first internship programme in 2022/23, we began advertising our next two Project Support Officer roles in July.  Ribh Gallacher was successful in her application to join the Community & Education staff; born and raised in Crossmichael, Ribh graduated with a degree in Politics, International Relations and Social Policy, and most recently was a Research and Management Assistant with Better Lives Partnership. Matthew McCulloch will be working on the Biosphere's Communications & Marketing, having moved to join family in Bargrennan in March.  Matthew studied Film and Television at the University of Nottingham and subsequently worked with social media and digital promotions in the hospitality sector.  Both Ribh and Matthew will help deliver and promote the Biosphere's projects and events.
Galloway and Southern Ayrshire was awarded its UNESCO Biosphere designation in 2012, representing international recognition of the region's nature, wildlife, and cultural heritage, and local opportunities for sustainable development.  It is a non-profit organisation with a programme supported by core funding from South of Scotland Enterprise, South Ayrshire, East Ayrshire and Dumfries & Galloway councils.  Our two annual internships are aimed at fulfilling the organisation's commitment to providing learning, skills training and sustainable jobs.
Commenting on becoming part of the Biosphere team, Ribh said, "As a young graduate with a year's experience within the third sector, the opportunity afforded to me by the Galloway and Southern Ayrshire Biosphere to take my learning further and develop a career within the area is something I am very grateful for.  I'm really looking forward to my role as Project Support Officer where I will have the chance to meet some amazing people from all over the Biosphere and beyond, not only helping to support those I meet along the way but also to better my own understanding of conservation, climate action, sustainability and much more."
Matthew said, "I'm looking forward to working with the Galloway and South Ayrshire Biosphere and helping get the name out there for our fantastic region and the many businesses and activities it has to offer.  It's a great opportunity to work across the Biosphere and develop my skills throughout this next year on some really varied projects.  This is an exciting step for me and I look forward to helping out and learning more about the beautiful area we live in."
Find out more about our staff here: Meet the Team.