Back to blog
An Invitation to our Community Networking Event
Team GSAB are delighted to be getting back to hosting in-person events and we have a very exciting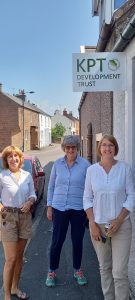 one coming up in May!
Our Community Networking Event will feature an agenda of speakers discussing community-led initiatives across the Biosphere, the successes achieved and the challenges encountered along the way. We think this could be a great opportunity for local people to make new connections and share some unique experiences – all of which has the potential to shape and inform community projects that are yet to come.
The agenda includes representatives from South Machars Community Centre, the Ballantrae Trust, Ochiltree Community Hub, Keir, Penpont & Tynron Development Trust, Carsphairn Community Woodland, plus the Biosphere's Community and Education team.
This event will take place on Friday 20th May at the Catstrand in New Galloway from 10am – 2:30pm. It is free to attend, with a light lunch included. All are warmly invited but places are limited – please email jenna@gsabiopshere.org.uk to book.