Back to blog
All the latest from Team GSAB's summer events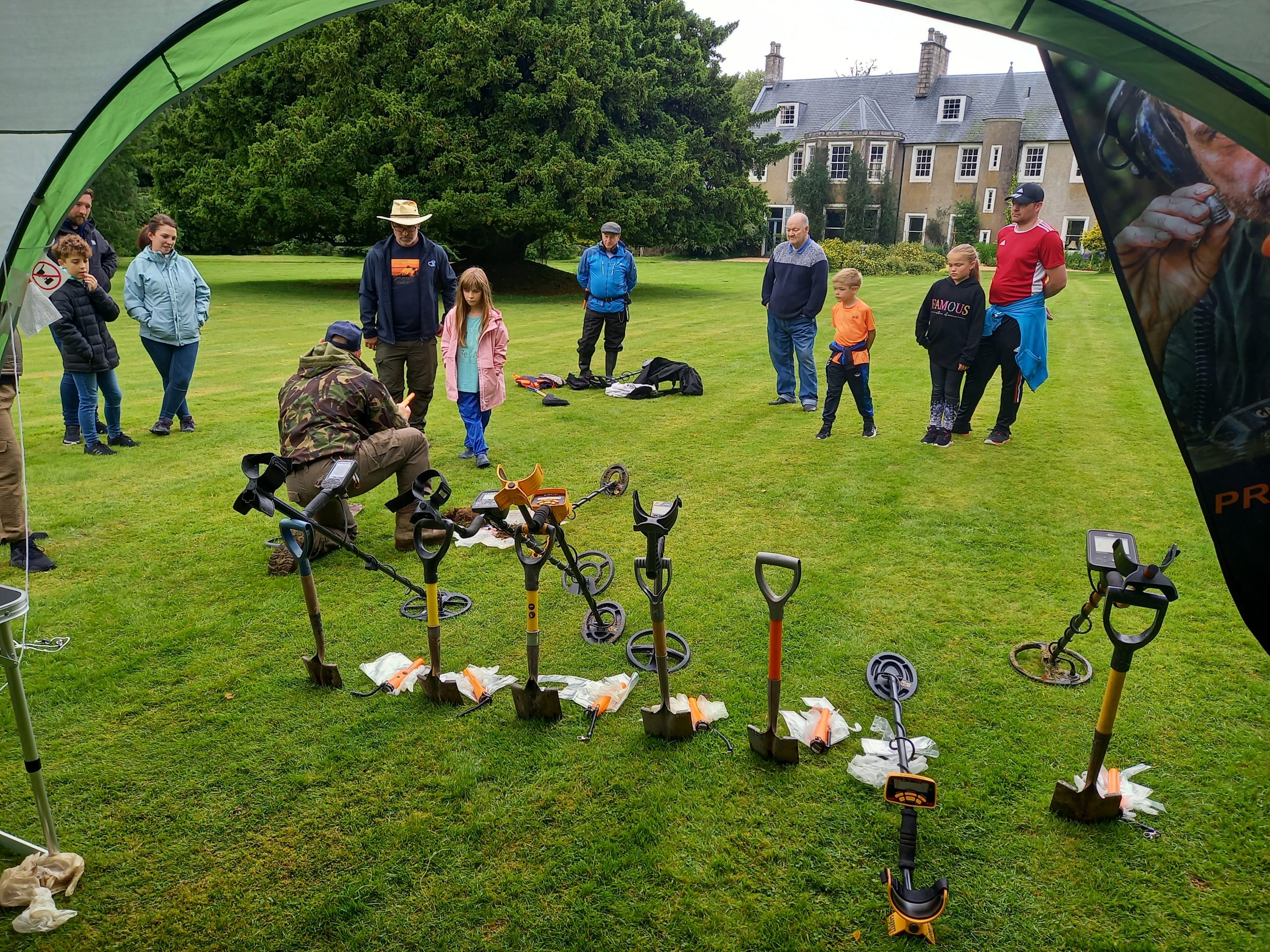 Our team is enjoying a busy summer, with a lot more to come in the way of community and public engagement events. Below are some of our highlights so far.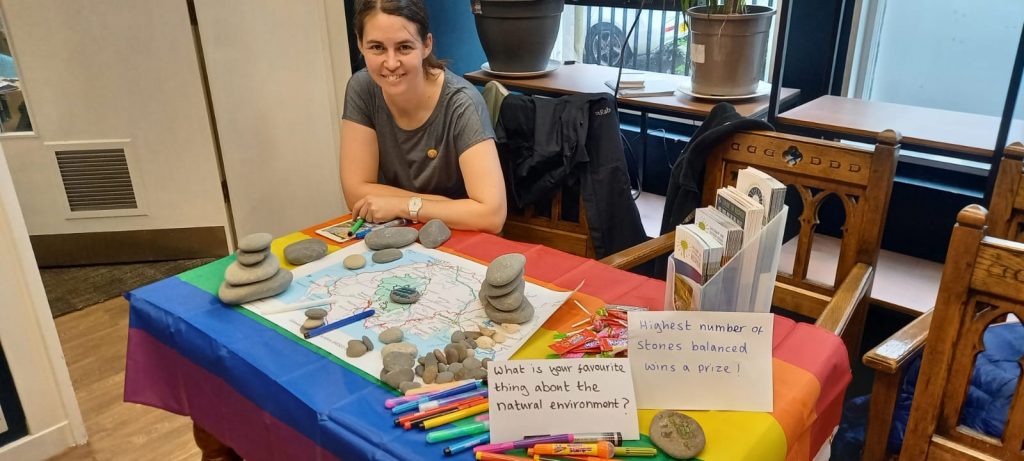 Newton Stewart: thanks to everyone who dropped into our Pop-Up Info Hub at The Vault Arts Centre earlier this month. As well as two days of meeting and speaking to residents about Scotland's first UNESCO Biosphere (yes that's GSAB! Designated in 2012) we hosted a successful evening business session for local enterprise to find out more about our work supporting sustainable local enterprise, and opportunities to connect with Scotland's UNESCO Trail. Finally, it was our privilege to be a part of Newton Stewart's Pride 2022 celebrations on 23rd July – here's Faith Hillier, our Community Officer, modelling our stand, which is significantly more colourful than it's ever been before.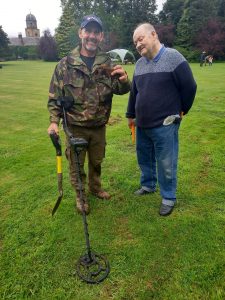 Dalmellington: up in East Ayrshire Tamara, armchair archaeologist and our Communications & Marketing lead, was invited by our friends at the Coalfields Regeneration Trust to join their community metal detecting taster last weekend. The event was able to take place in the grounds of historic Craigengillan Estate thanks to the generosity of owner Mark Gibson, a Biosphere Proud Supporter who works tirelessly to create and maintain spaces where nature can thrive and the community can spend time and enjoy. Metal Detecting Scotland came all the way down from their HQ in central Scotland to get participants properly equipped and share their expertise, not only about technique but how to detect according to the principle of 'leave no trace': being considerate of landscape and wildlife, and ensuring that each site is left intact. Pictured left is Toddy Irvine, our instructor for the day, with local resident Henry and a recently excavated and very historic mole trap! There is much more to discover about the history of East Ayrshire and please do follow the work of our partners at the Coalfields Communities Landscape Partnership whose projects are helping local people and the wider world connect with the unique heritage of this region.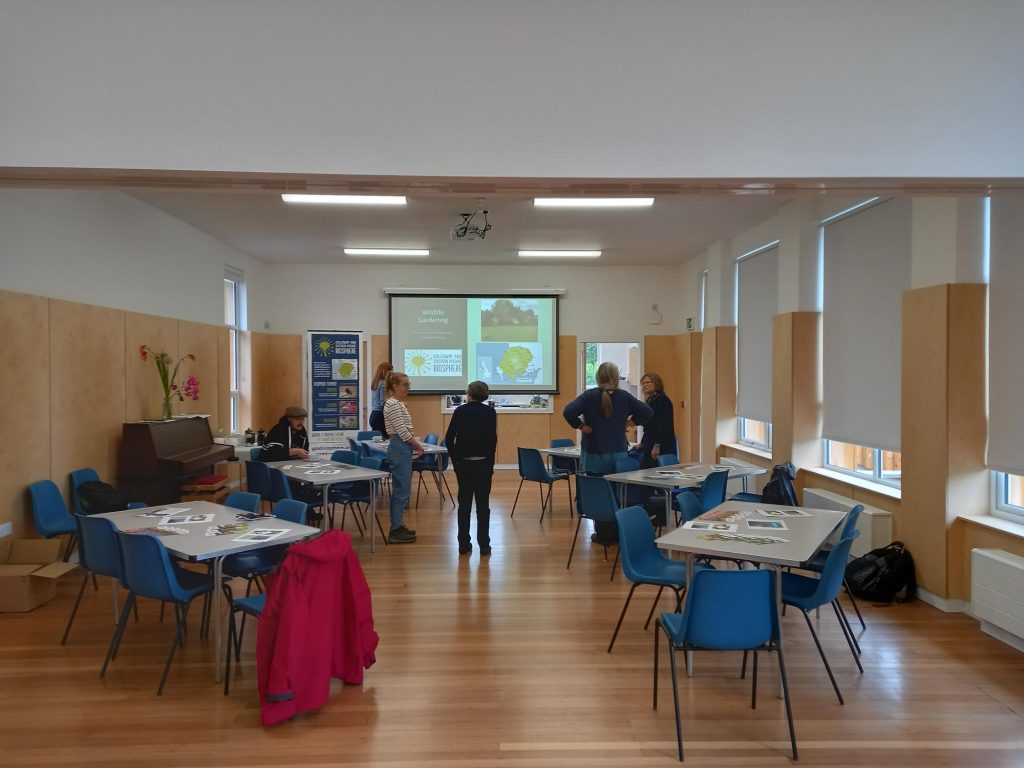 Mary, our Land Use Advice Officer, visited one of our Biosphere Communities for a nature event which took place at the amazing Glentrool Hive, recently completed and now fully operational as a social and event hub for residents (note that the Hive also offers sustainable accommodation for visitors to the area). Mary – pictured right with the Hive team while setting up – delivered a talk on gardening for wildlife: how we can optimise even the smallest of outdoor spaces for birds, bugs, and others who might happen to stop by or even make your garden their home. Gleefully reporting that she had 'almost lost her voice', Mary remains available to advise on land management projects large and small – at home, on business premises, or at agricultural sites. Contact details for Mary and all our officers are available online via Meet The Team, and if you're not sure who you need to speak to just email info@gsabiosphere.org.uk and your enquiry will be directed to the appropriate member of staff.
If you've missed us so far remember that we'll be at plenty of upcoming events next month: the Wigtown Show on 3rd August, the Stewartry Show at Castle Douglas on 4th August, the Green Fayre at Newton Stewart on 6th August, Ochiltree for Guerilla Gardening on 7th August, and more. If you're planning even further ahead the Autumn Wildlife Extravaganza at Carsphairn is available to book now via Galloway Glens on eventbrite.