A key goal of the Biosphere is to promote the preservation of wildlife, habitats and landscape. Galloway and Southern Ayrshire Biosphere support the protection, enhancement and restoration of the natural environment.
These are the habitats and species we are particularly concerned with at the moment – the table shows the species found in each habitat:
Habitat Management Guidance Summary

2.1 Blanket and Raised Bog 301215 – these peatland habitats are important for species such as the sundews and Azure Hawker dragonfly and also help to mitigate climate change by storing carbon. Restoration is taking place in the Biosphere to conserve these vital habitats.
2.2 Upland Healthland 301215 supports priority species black grouse, curlew, golden eagle, and golden plover. It is found on nutrient poor soils, with dwarf shrubs, notably heathers, blaeberry, crowberry, deer grass, purple moor grass, sedges, lichens and mosses.
2.3 Purple Moor-Grass and Rush Pasture 301215 occurs on poorly drained wet soils in lowland to mid-altitude areas with high rainfall. Dominated by purple moor grass or rush pasture it is often found in a mosaic of grassland types such as acid  or neutral grassland, wetland and heathland habitats.  It contains a rich mix of grassland and heath species.
2.4 Montane Heath and Montane Scrub 301215 are very important for their non-flowering plant, fungi and lichen and invertebrate assemblages. These habitats are restricted within UK and are only found in the harshest habitat of the Biosphere, above the tree line (generally above 600m)
2.5 U
pland Oak and Wet Woodland 301215 These woodlands support a diverse range of wildlife including red squirrel and work is underway to develop habitat networks linking and restoring fragmented woodlands.
2.6 Acid Grassland 301215  These are diverse upland or lowland grasslands with herbs such as tormentil, heath bedstraw, harebell, hawkweeds, devil's bit scabious. Found in a mosaic of habitats they can support High Focus species black grouse, golden eagle and golden plover and give a feeling of wildness when visiting them.
2.7 Oligotrophic Lochs 301215 These are nutrient poor, usually in upland areas and important for their clear, clean waters that support Brown Trout, Arctic Charr and Atlantic Salmon.
3.1 Woodland Fringe for Black Grouse 301215 is found between woodland and open hill/moorland. It is sparsely wooded and scrubby with pockets of open ground. It is important  for species of conservation concern such hen harrier, black grouse, nightjar, tree pipit, pine marten and adder.
3.2 Woodland for Red Squirrel 301215 A range of broadleaved and coniferous woodland woodlands in the Biosphere are significant habitats for the red squirrel and black grouse. Of these, upland mixed ash wood and lowland mixed deciduous woodland are UK Biodiversity Action Plan habitats.
3.3 Fresh Water Habitats 301215 Watercourses and waterbodies form a significant part of the Biosphere ecosystem, with rivers radiating out from the Core zone, feeding across the Biosphere (see Map 7). Many fresh water habitats provide vital support to a wide range of wildlife.
3.4 Coastal Habitats for Curlew 301215  Curlew overwinter along the coast on saltmarsh, mudflats and grazing marsh. These are important wintering grounds for a range of wildlife including golden plover.
High Focus Species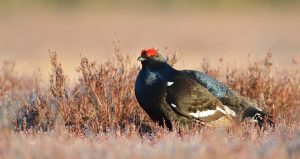 4.1 Black Grouse 301215 Black grouse  are found in moorland, where they favour mosaics of open moorland, heath and moorland fringe.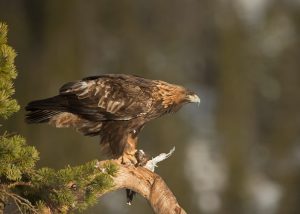 4.2 Golden Eagle 301215 are rarely seen south of the Scottish Highlands but are present in small numbers in the open moorland of the Galloway Hills.
4.3 Curlew 301215  Curlew is a ground nesting bird needing rough tussocky, not too dense vegetation, for nesting and can be found in heathlands, purple moor grass grasslands, bogs, fens and rush pastures and on agricultural grasslands with suitable vegetation structure.
4.4 Golden Plover 301215 The distribution of golden plover within the Biosphere is likely to be limited to the uplands, particularly of the of the Core and Buffer zones during the summer breeding season. During the winter they move to both the Solway and Ayrshire coast.
4.5 Red Squirrel 301215 is a native squirrel species associated with woodland habitats. Unlike the non-native grey squirrel, the red squirrel can be found in both large tracts of coniferous forest as well as broadleaved woodlands.
4.6 Water Vole 301215 is found in both lowland and upland environments. In the lowlands water voles use slow-flowing streams and ditches with luxurious marginal vegetation but losses by mink predation have been high. In the uplands they are found in slow-flowing narrow moorland streams with peaty channels.
4.7 Brown Trout 301215 are associated with a variety of habitats, including rivers and streams, large lochs and upland lochans and are present in many rivers and burns across the Biosphere.
4.8 Juniper 301215  This is an uncommon prostrate form of juniper associated with montane scrub habitats, above the treeline, so has a limited distribution in the UK. In the Biosphere it is restricted to parts of the Galloway Hills.
4.9 Downy Willow 301215 is another rare shrub of montane areas. Planting is being undertaken to increase coverage of this and the juniper in the Biosphere.
[/accordion-item]
Maps of the High Focus Habitats